Details for purchasing tickets to performances in 2021 will be announced later in the fall of 2020. Learn more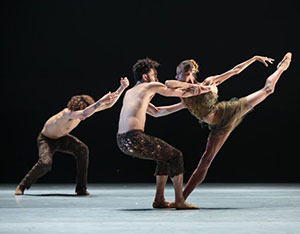 Buy Tickets  Subscribe and Save
Figures of Speech
Since 1982, visionary choreographer Alonzo King has been redefining contemporary ballet by creating daring new works that marry the science of artistic movement with the beauty of other art forms. In his latest collaboration, Figures of Speech, King addresses the fact that languages of the world are vanishing at an alarming rate, and draws on the research of poet and activist Bob Holman, pioneer in the slam poetry movement and co-founder of the Endangered Language Alliance. His expressive choreography takes inspiration from a soundtrack of poetry recited by native speakers of languages nearing extinction and music played on traditional instruments. The movement interprets this soundscape, created by composer and sound designer Alexander MacSween, which is ethereal, alien, primal, and elegant. The San Francisco Chronicle proclaimed, "The finale, an unbreakable chain of 10 bodies, strong and sculptural, is a stunner."
Tickets: $48 $41, $29
A pre-performance discussion with Caroline Rocher, Adjunct Professor in the School of Dance and former LINES Company Member, begins 45 minutes prior to the performance, located on Monson Grand Tier. Seating is limited and opens 15 minutes before the pre-performance discussion.
Join us following the performance for a Cocktails and Conversation Q&A with Ballet Master Meredith Webster and members of the company in the lobby.
Individual tickets go on sale August 1.
Free student tickets are available two weeks prior to this event. 
The presentation of Alonzo King LINES Ballet is made possible by the New England Foundation for the Arts' National Dance Project, with lead funding from the Doris Duke Charitable Foundation and The Andrew W. Mellon Foundation.