Bill T. Jones/Arnie Zane Company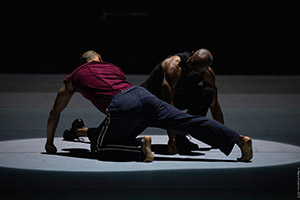 Buy Tickets  Subscribe and Save
What Problem? (world premiere)
In this world premiere, co-commissioned by the Center for the Arts, Bill T. Jones examines group identity and its relationship to aloneness set to spoken word and live music. What Problem? includes three thought-provoking sections: Jones in solo performance; Jones alongside members of the Bill T. Jones/Arnie Zane Company; and, in conclusion, Jones and the company onstage with participants from the greater Northern Virginia community. For more than 35 years, the landmark Bill T. Jones/Arnie Zane Company has revolutionized modern dance while exploring issues of identity through social commentary. Lauded as a groundbreaking leader in modern dance, Bill T. Jones is the recipient of the National Medal of Arts, MacArthur Genius Award, Kennedy Center Honors Award, and multiple Tony Awards. Witness this new project in its official debut performance at the Center.
Please note: This program may include mature themes and subject matter.
What Problem? is co-commissioned by the Center for the Arts at George Mason University.  Support for the creation of What Problem? is provided by the Mason Artist-in-Residence program, which is funded, in part, by the George Mason University Office of Research, Innovation and Economic  Impact and ARTSFAIRFAX.
Join Bill T. Jones on Stage in a World Premiere!
The Bill T. Jones/Arnie Zane Company will be putting the finishing touches on a brand new work the week of January 27, 2020, and invites you to join them on stage. Learn More
Town Hall with Bill T. Jones: A Conversation on Community, Identity, and Art
As part of the company's weekly residency with the Center for the Arts, Jones will be hosting a town hall discussion open to the public. Learn More
Tickets: $48, $41, $29
A pre-performance discussion begins 45 minutes prior to the performance, located on Monson Grand Tier. Seating is limited and opens 15 minutes before the pre-performance discussion.
Free student tickets are available two weeks prior to this event.