Czech National Symphony Orchestra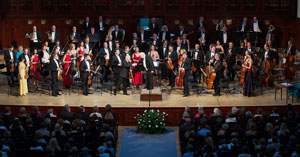 Subscribe and Save  Buy Tickets
100 Years of Leonard Bernstein
John Mauceri, conductor
Isabel Leonard, mezzo-soprano 
Celebrate the 100th birthday of American's national treasure, Leonard Bernstein, with a musical fête of his works when the internationally renowned Czech National Symphony Orchestra (CNSO) returns to the Center for the Arts. Under the direction of accomplished American conductor, John Mauceri –- who was a mentee and conducting fellow under Bernstein -– the orchestra performs highlights from Bernstein's Mass, Candide, A Quiet Place, West Side Story and more. CSNO is among Europe's top symphonic ensembles and is renowned for its versatility. The orchestra brings its music to audiences around the world on tour and through its recordings with programs ranging from classical to contemporary genres, film scores, jazz and musicals. Mezzo-soprano Isabel Leonard, critically acclaimed for her performances of Bernstein repertoire, joins the orchestra. "A substantive, rich, and revealing concert…" (New York Times).
Tickets: $60, $51, $36
A pre-performance discussion with a member of the company begins 45 minutes prior to the performance.