Fairfax Symphony Orchestra: Inspiring the Next Generation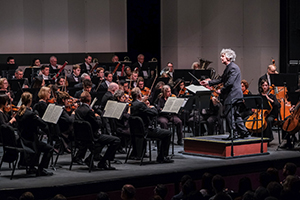 Featuring the Fairfax Symphony All-Stars
Sharon Bulova Young Artists' Program
Alexander Kerr, violin
Mussorgsky: Night on Bald Mountain
Leshnoff: Violin Concerto No. 2 (Regional Premiere)
Mussorgsky: Pictures at an Exhibition 
The FSO salutes the next generation of young musicians with a special performance by the Fairfax Symphony All-Stars.  This education initiative brings together the brightest young musicians from across Fairfax County for a rare opportunity to perform side-by-side with the FSO.  These talented musicians, selected through a competitive audition process, receive personalized mentoring and coaching from FSO musicians leading up to the collaborative concert and are Fairfax County's dynamic music ambassadors.
"Tuneful, toe-tapping, vividly rhythmic, the Leshnoff is a most appealing work: neoclassical Stravinsky meets Samuel Barber meets minimalism... it was a showpiece for Dallas Symphony concertmaster Alexander Kerr, who played with the utmost tonal finesse, sweetly singing phrases balancing flawless virtuosity."  — Dallas Morning News
MORE THAN NOTES:  Hear the stories behind the music with music director Christopher Zimmerman and special guests before the concert at 7pm.
$15 Student tickets available
Individual tickets go on sale August 1.