Fairfax Symphony Orchestra: Nostalgic Nights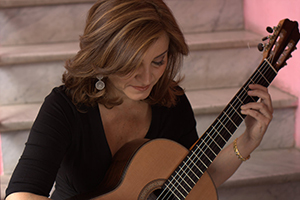 Berta Rojas, guitar
Honegger: Summer Pastoral
Ravel: Pavane for a dead princess
Rodrigo: Concierto de Aranjuez
Mozart: Symphony No. 35 (Haffner)
Prokofiev: Symphony No. 1 (Classical) 
Be swept away by the romantic charm of the classical guitar as the FSO takes you on a journey to Spain with Rodrigo's masterpiece. The blind composer drew his inspiration from "the fragrance of magnolias, the singing of birds, and the gushing of fountains" in the palace gardens of Aranjuez.
Berta Rojas ranks among today's foremost classical guitarists. Praised as "guitarist extraordinaire" by The Washington Post and by Classical Guitar Magazine as "Ambassador of the classical guitar," Berta Rojas ranks among today's foremost interpreters of Rodrigo's music. 
"Rojas is renowned for the elegance of her playing - her hand glides effortlessly over the fretboard as if brushing a piece of silk. Her Aranjuez was an enrapturing experience…" (The Post-Ireland)
MORE THAN NOTES:  Hear the stories behind the music with music director Christopher Zimmerman and special guests before the concert at 7 p.m.
A limited number of $15 student tickets are available.
 Individual tickets will go on sale TBD.