Details for purchasing tickets to performances in 2021 will be announced later in the fall of 2020. Learn more
Jazz 4 Justice™
Presented By
Reva and Sid Dewberry Family School of Music
When/Where
Friday, Nov 20, 2020 8:00pm
Virtual Event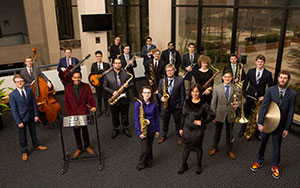 Jazz4Justice™ and Justice for Jazz. 
Established in 2001 by Fairfax, Virginia attorney Edward L. Weiner, Esq. and Founder of Mason Jazz Studies, Jim Carroll, Jazz 4 Justice™ is an award-winning annual concert presented by Legal Services of Northern Virginia (LSNV) and Mason Jazz Studies. This year's celebration concert will be a virtual highlight of Mason Jazz students and faculty. Jazz 4 Justice™ is a truly unique event where attorneys, judges, students and members of the Northern Virginia community gather to celebrate their love of jazz. Proceeds from the evening benefit LSNV to continue its mission of service to the Northern Virginia community as well as providing financial support for the Mason Jazz Studies department for trips, recordings and student projects.
This event will be streamed simultaneously on this webpage, Facebook and YouTube at the scheduled time. Additional details for how to watch may be updated here.
To enable automated closed captioning for the Facebook video please navigate to the bottom right of the video pane and click the "CC" button.
FREE
Your support is greatly appreciated for this wonderful collaboration and very worthwhile cause. Please see sponsorship and donation opportunities. 
Thank you to our sponsor:
F.H. Furr Plumbing, Heating Air Conditioning & Electrical