Virginia Opera: Il Postino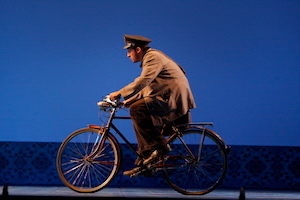 Buy Tickets  Subscribe and Save
Contemporary and classical opera enthusiasts alike are in for a special treat with this production of Mexican composer Daniel Catán's tragic-comedic opera, Il Postino (The Postman). Based in part on the 1994 Oscar-winning film, it was commissioned by Los Angeles Opera and was critically lauded in its premiere in 2010. Il Postino recalls the imagined life of exiled Chilean poet Pablo Neruda as he provides his long-suffering and love-struck postman, Mario, with the words to reveal his heart to the love of his dreams, Beatrice. It's a universal story of love longed for, and won, featuring an opulent score with arias, duets, and tonal music paying homage to Puccini. "Il Postino delivers in a way few modern operas do" (The Boston Globe), and the San Francisco Chronicle described it as "lush and singable." Crystal Manich directs this Virginia Opera debut production. Sung in Spanish with English supertitles.
Tickets: $110, $70, $40
A pre-performance discussion begins 45 minutes prior to the performance, located on Monson Grand Tier. Seating is limited and opens 15 minutes before the pre-performance discussion.
Individual tickets go on sale August 1.
See Aida in Richmond!
Take a bus to Richmond for Virginia Opera's performance of Aida on Sunday, March 29, 2020
Free student tickets are available two weeks prior to this event. 
Performance Sponsor: The Mather in Tysons