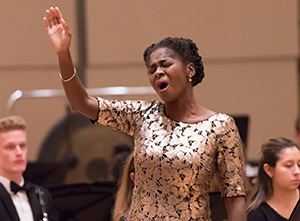 This exciting and fast-paced concert will showcase the breadth and depth of Mason's ensembles, including Wind Symphony, Fife and Drum Corps, Green Machine, Jazz Ensembles, Opera, Symphony Orchestra, University Choirs, Brass Ensemble, and Drumline!
The finale of Beethoven's Choral Fantasy (with choirs, orchestra, and piano soloist) will provide a powerful conclusion. Enjoy an evening of impressive, engaging, and celebratory musical works performed by Mason's sensational School of Music students.
Tickets:
$30 adults
$15 seniors
$15 youth through grade 12
Find out more about the A Musical Feast fundraiser gala event on May 4th starting at 5:30 pm with wonderful student performance showcases, food, and wine.