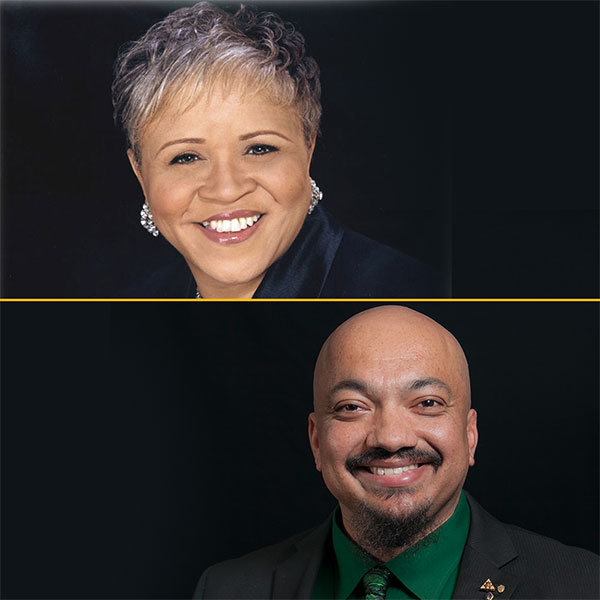 Dewberry School of Music
A Song of Freedom: Featuring world premieres by Evelyn Simpson-Curenton and Michael W. Nickens
Saturday, May 08, 2021 8:00pm

Virtual Event
The Reva and Sid Dewberry Family School of Music closes the semester with a program that celebrates unity and resilience in the face of division and uncertainty. The concert showcases works by Black composers as well as selections inspired by the African-American experience. The program features two world premieres commissioned by the Dewberry School of Music from renowned composer Evelyn Simpson-Curenton and Mason's own Associate Professor of Music and Director of the Green Machine Ensembles Michael W. Nickens (Doc Nix). 
 
Simpson-Curenton's world premiere of Passages will feature current students from across the University Choirs, and a guest appearance by School of Music alumna Metropolitan Opera singer Aundi Marie Moore. Under the direction of the Director of Choral Studies, Stanley Engebretson, Passages, is a moving choral work that powerfully proclaims, "Sing a song of freedom." 
 
Nickens' commissioned work, titled The Orator, The Abolitionist, The Man: Frederick Douglass is based on the 1893 biography written by his great-great grandfather James Monroe Gregory, a contemporary of Douglass. The world premiere features Mason Wind Symphony, members of the Green Machine, and spoken word narration by himself which is solely derived from the biography and Douglass' speeches. 
 
This pre-recorded digital concert features nearly 100 students performing as part of the momentous event, including additional works ranging from William Grant Still, George Walker, and Antonin Dvorák to U2's "MLK." The performance highlights students from the Mason Symphony Orchestra, University Choirs, Wind Symphony and Green Machine, Trombone Choir, Percussion Ensemble, and Tuba/Euphonium Ensemble. 
How to Watch
This event will be available to watch beginning Saturday, May 8 at 8 p.m. ET simultaneously on this webpage and the

Center for the Arts YouTube channel

.
Registration for the event is not required, but if you register you will be sent a reminder with details for how to watch prior to the event.

Register now

.
Give
Spring 2021 Dewberry School of Music performances as part of Mason Arts at Home are free. You can give back to these talented young musicians by supporting their educations. A gift of any size in support of scholarships is deeply appreciated. Make a gift. 
Image: Evelyn Simpson-Curenton and Michael W. Nickens