Alejandro Brittes Quartet
Wednesday
,
Sep.
20
at
8 p.m.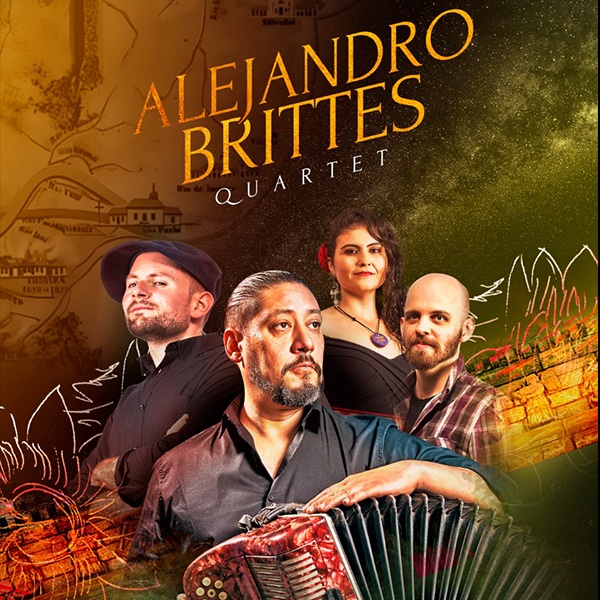 Experience a transformative chamamé performance from the Alejandro Brittes Quartet at Harris Theatre on Wednesday, September 20 at 8 p.m.
Chamamé–just like tango–has been declared as "Intangible Cultural Heritage of Humanity" by UNESCO. Argentine accordionist, composer, and researcher Alejandro Brittes has been declared one of the foremost contemporary chamamé ambassadors and innovators.
Born of the centuries-long interaction between ritual practices of indigenous Guaraní and the Baroque music influences brought by Jesuits in the Mission period of the 16th to 18th centuries, chamamé was conceived as a ritual that hoped to communicate with the Earth and Universe, maintaining harmony among humans through music and dance. Having been described as a "danced prayer" that is performed in 6/8 time, a meter that is widely used in diverse human societies to enter into a trance, the musical elements of chamamé reflect its ritual origins and spiritual values of its originators, forged in the context of the Missions, crucibles of effervescent intercultural musical activity.
Brittes´s latest artistic work is focused on exploring, evoking, and innovating upon the ancestral heritage of chamamé, which has survived great challenges throughout history to flourish today. Interpreting historical repertoire and original compositions created in the Missions, Brittes collaborates with a Baroque orchestra on his project (L) Este, and also performs chamamé classics and original material with his Quartet. Based in Porto Alegre, Rio Grande do Sul, Brazil, the Quartet is composed of: Alejandro Brittes (accordion), André Ely (7-string guitar), Charlise Bandeira (flute), and Carlos de Césaro (contrabass).
For 2023 U.S. touring, Alejandro Brittes Quartet is supported by Iber Exchange, a program of Mid Atlantic Arts, with support from the National Endowment for the Arts in collaboration with Ibermúsicas. In September and October 2023, the Quartet will be featured at prestigious U.S. venues and institutions including Library of Congress, The Trust Performing Arts Center, Georgetown University, Queens Theatre, Creative Alliance, Levitt Pavilion, and more.
The doors to the venue will open at 7:30 p.m., with the concert beginning at 8:00 p.m. The performance will last approximately 90 minutes with no intermission. Immediately following the performance, the artists will be available in the lobby for a meet-and-greet with guests. Albums and merchandise will also be on sale in the lobby post-performance.