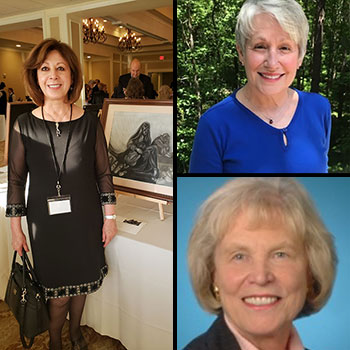 Alumni Cocktails and Conversation: Working 9 to 5 - Making Your Degree Work with You
Monday, Mar 08, 2021 7:00pm

Virtual Event
The College of Visual and Performing Arts Alumni Cocktails and Conversations with Dean Rick Davis returns with three new events in spring 2021. The live, digital conversations showcase College of Visual and Performing Arts (CVPA) alumni across the world in addition to career resources for multiple art forms and roles in the arts.
For the March 8 event, alumni from the School of Art share their experiences pivoting careers by earning Mason arts degrees as adult students. The featured guests include Bobbee Cardillo, Sharon Pound, and Robabeh Riasati. 
Creative industry careers are arguably some of the most challenging in normal times, and the COVID-19 pandemic has introduced a new level of uncertainty. Whether you're a freelancer losing work, a teacher adapting to virtual instruction, or an arts administrator canceling or reimagining programming, we face new challenges but also opportunities to conduct our work in new ways. Hear from industry experts within the CVPA community about how they are thriving and moving forward in their careers. 
Give
You can give back to future arts leaders by supporting their educations. Gifts of any size to the arts management scholarship fund are deeply appreciated. Make a gift.
Images of School of Art alumni: Robabeh Riasati (left), Sharon Pound  (top, right), Bobbee Cardillo (bottom, right).