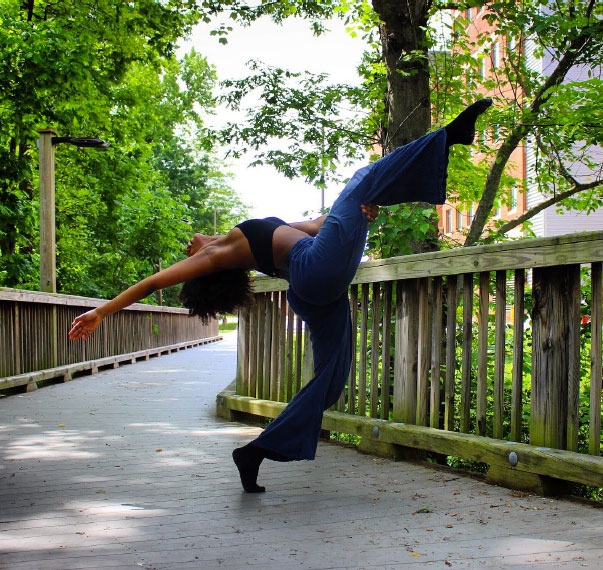 Mason Arts at Home
Black Voices Screening
Friday, May 07, 2021 7:30pm

Virtual Event
The Black Voices project is a storytelling and movement initiative based on lived experiences of students from Mason's School of Dance. With a process created by Rafael Palacios, artistic director of Afro-Colombian dance company Sankofa Danzafro, to keep artists engaged during COVID-19 lockdowns, and to honor personal stories inspired by racial justice movements around the world, Black Voices Project aims to provide a space for students to translate their words into a movement-based performance, centering around their personal experience. School of Dance students participating in the project include Brianna Dawkins, Olivia McCall, and Carmella Taitt. 
 This moderated conversation and digital screening is the culmination of a semester of work, showcasing the three selected participants' movement pieces, choreographed by Mason Dance students alongside Palacios. The live event will feature a conversation between Palacios and the participants about the creative process, their personal stories, and his company, Sankofa Danzafro.
Photo of Carmella Taitt. 
FREE 
How to Watch
This event will be available to watch beginning Wednesday, May 7 at 7:30 p.m. ET simultaneously on this webpage, the Center for the Arts Facebook page, and

YouTube channel

.  
Registration for the event is not required, but if you register you will be sent a reminder with details for how to watch prior to the event.

Register now

.
Give
Spring 2021 School of Dance performances as part of Mason Arts at Home are free. You can give back to these young artists by supporting their educations by making a gift to School of Dance scholarships. Gifts of any size are deeply appreciated. Make a gift.