CANCELLED: Cameron Carpenter: All You Need is Bach
| | | |
| --- | --- | --- |
| When/Where | Saturday, Oct 24, 2020 5:00pm | |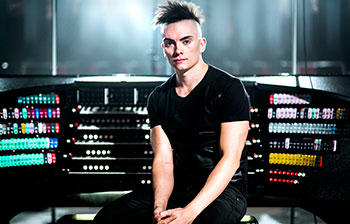 This performance by Cameron Carpenter, scheduled for October 24, has been cancelled. This performance will not be rescheduled or replaced. Ticket holders will be contacted regarding options for their tickets.
Cameron Carpenter is a game changer in classical music, and during these unprecedented times when music halls have been closed and social distance is the rule of the day, Carpenter has dedicated himself to spreading joy through a simple message: "All You Need is Bach." With the onset of COVID-19, Carpenter modified his International Touring Organ to be even more agile on a flatbed truck and surprised music lovers around Germany with pop-up concerts, particularly at hospitals and retirement communities. Following an expanded tour of Europe in summer 2020, Carpenter will bring his portable electric organ to North America. The Center for the Arts is proud to present his outdoor performance, showcasing the most uplifting pieces from the Goldberg Variations as part of his tour. And we have a heart-tugging feeling Carpenter will surprise deserving Northern Virginia residents with his talents surrounding his visit. "Carpenter is one of the rare musicians who changes the game of his instrument…He is a smasher of cultural and classical music taboos. He is technically the most accomplished organist I have ever witnessed…And, most important of all, the most musical," (The Los Angeles Times).
Enjoy these performances in your own seating area, physically distanced from other audience members. The maximum audience size is 200. Complete information about what to expect when you attend an event at Mason Pond Lawn: https://cfa.gmu.edu/plan-your-visit/outdoor-performances
All performances including the program, artists and dates are subject to change.