CANCELLED: Cirque FLIP Fabrique Six°
Presented By
Center for the Arts Outdoor Concerts
When/Where
Saturday, Oct 17, 2020 1:00pm
Saturday, Oct 17, 2020 4:00pm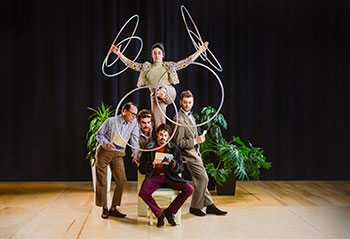 Cirque FLIP Fabrique Six°, scheduled for October 17, has been cancelled. This performance will not be rescheduled or replaced. Ticket holders will be contacted regarding options for their tickets.
Bring the entire family for a thrilling live outdoor performance in front of the Center for the Arts on the Mason Pond Lawn for Six°, Cirque FLIP Fabrique's newly created spectacle. Renowned acrobatic comedian Jamie Adkins and Cirque FLIP Fabrique unite for this performance featuring classic slapstick comedy, juggling, hoop tricks, trampoline, and breathtaking feats of acrobatics. In Six°, six envelopes contain six mysterious invitations for six strangers. All but one have arrived... Who is the sixth person, the missing connection? Might it be you? Hailing from Québec City, Cirque FLIP Fabrique is an established troupe founded by a group of friends who are at the peak of their talents as professional circus artists. Having performed extensively across the globe for more than a million spectators, Cirque FLIP Fabrique continues to enthrall audiences worldwide with performances that are equally as fun and accessible for everyone as they are visually stunning.  
Enjoy these performances in your own seating area, physically distanced from other audience members. The maximum audience size is 200. Complete information about what to expect when you attend an event at Mason Pond Lawn: https://cfa.gmu.edu/plan-your-visit/outdoor-performances
$30 adults, $15 youth
Limited free tickets for Mason Students are available. Learn more. 
All performances including the program, artists and dates are subject to change
This event is Family Friendly.