CANCELLED: Fairfax Symphony Orchestra: Beethoven at 250 - Peace & Joy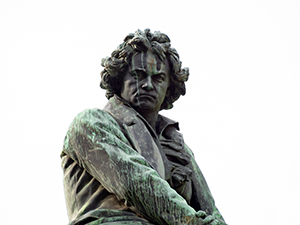 This performance is cancelled. Information for ticket holders can be found here. If you have tickets to a performance that is cancelled, you will be contacted by the Center for the Arts Ticket Office with details about your tickets.
Leshnoff: Symphony No. 4 "Heichalos" (Regional Premiere)
Beethoven: Symphony No. 9 
Distinguished by The New York Times as "a leader of contemporary American lyricism," composer Jonathan Leshnoff is renowned for his music's striking harmonies and powerful themes.  Leshnoff's Symphony No. 4 is a powerful new work written for the Violins of Hope, a collection of restored instruments that survived the Holocaust. The composer draws inspiration from an ancient Jewish mystical text, Heichalos, to explore spiritual and ethical questions at the heart of the Jewish experience.
Beethoven crafted the Ninth Symphony in an epic struggle between despair and transcendence to reach new heights with the words "all men become brothers." His glorious final symphony celebrates the bonds that unite humankind and has been described as his "great vision of the future."
MORE THAN NOTES:  Hear the stories behind the music with music director Christopher Zimmerman and special guests before the concert at 7pm.
Prices begin at $25. Student tickets are $15.