CANCELLED: Metropolitan Jazz Orchestra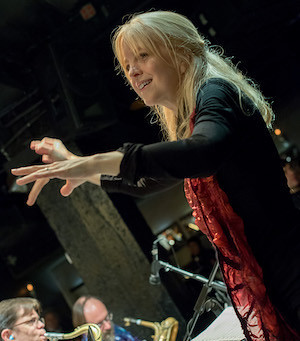 This performance is cancelled. Information for ticket holders can be found here. If you have tickets to a performance that is cancelled, you will be contacted by the Center for the Arts Ticket Office with details about your tickets.
Featuring Maria Schneider, conductor 
Grammy® Award-winning composer and conductor Maria Schneider leads Northern Virginia's own Metropolitan Jazz Orchestra in a night of cool, expressive jazz. The evening's repertory includes instrumental excerpts from Winter Morning Walks, a set of song cycles composed by Schneider. Witness jazz perfection with Schneider, named 2019 National Endowment for the Arts Jazz Master, and the Metropolitan Jazz Orchestra, comprised of the most remarkable jazz performers in the metro region, in this highly anticipated event. "To call Schneider the most important woman in jazz is missing the point...She's a major composer–period." (TIME Magazine).
Tickets: $46, $39, $28
Conversation with Maria Schneider
Join multiple Grammy Award-winning composer and conductor Maria Schneider for an intimate conversation about her influential work in the world of jazz and artist rights advocacy. Moderated by Sandra Aistars (Mason School of Law professor and Senior Scholar and Director of Copyright Research and Policy at the school's Center for the Protection of Intellectual Property), this conversation is free and open to the public, and will be followed by a reception in the Hazel Hall Atrium on the Arlington Campus.
WHEN: Thursday, April 9th, 2020 from 4:45 – 6:00 pm (reception begins at 6 pm)
WHERE: Mason School of Law's Hazel Hall Room 120 (reception in atrium to follow)
Maria is the third and final Mason Artist-in-Residence for the 2019 – 2020 season, and she will be performing with the Metropolitan Jazz Orchestra on April 11 at the Center for the Arts.
Please RSVP for the talk and reception. If you are an artist or community member seeking assistance with copyright questions of your own, please contact Sandra Aistars to arrange for a member of the Arts and Entertainment Advocacy Clinic to speak with you at the event.
A pre-performance discussion begins 45 minutes prior to the performance, located on Monson Grand Tier. Seating is limited and opens 15 minutes before the pre-performance discussion.
Free student tickets are available two weeks prior to this event.