Details for purchasing tickets to performances in 2021 will be announced later in the fall of 2020. Learn more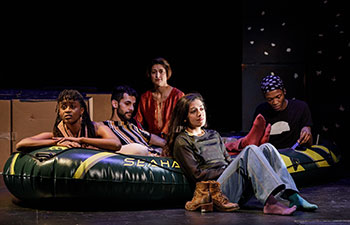 Mason Artist-in-Residence
Co-created by Kaneza Schaal and Christopher Myers
Five young refugees set out in search of a new place to call home in this "stunning" (The New York Times) and timely theatrical work. Inspired by the artists' creative work with refugees from around the world, this interactive performance charts a new map for its characters using visual arts, storytelling, and filmmaking. A truly innovative and visually stunning performance, CARTOGRAPHY creates an onstage virtual storm that rises up in response to the actors' voices, uses cell phones to depict memories being made, and features live sculpture creation to represent the characters' journeys. From the minds of author and illustrator Christopher Myers and director Kaneza Schaal comes "A wonder of theater-making…honest and authentic…full of cracking story-telling" (DC Metro Theater Arts). 
Recommended for ages 10 and older.
$46, $39, $28
Run time: 75 minutes with no intermission
Details for purchasing tickets will be announced later in the fall of 2020.
Free student tickets are available two weeks prior to this event. 
This engagement of Kaneza Schaal and Christopher Myers' CARTOGRAPHY is made possible through the ArtsCONNECT program of Mid Atlantic Arts Foundation with support from the National Endowment for the Arts.