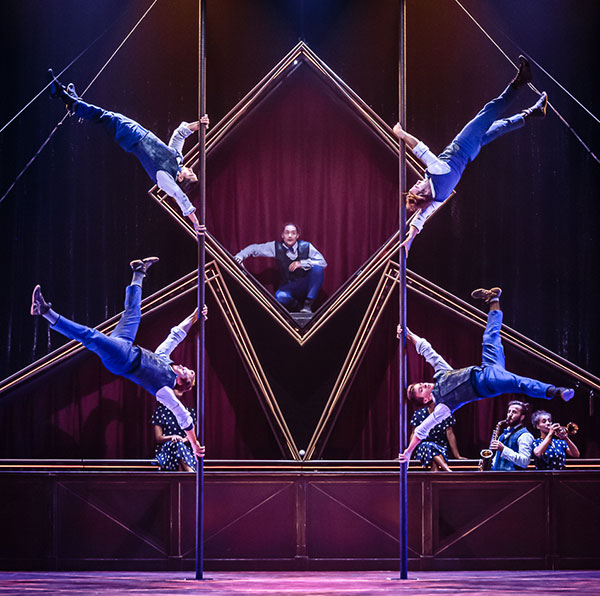 Great Performances at Mason
Cirque Éloize
Friday, Apr 01, 2022 8:00pm
Saturday, Apr 02, 2022 2:00pm
Saturday, Apr 02, 2022 8:00pm

HOTEL
Cirque Éloize's 25th anniversary creation is an immersive, high-flying Art Deco universe—HOTEL. The stage is transformed into a multi-storied grand hotel of a bygone era where acrobatics and dance are performed to live music. The hotel's lobby doors swing open and a kaleidoscope of characters perform for you: a mischievous maid, a faithful craftsman and his inseparable dog, a pair of young lovers, an ambitious celebrity, and more. This impressive work celebrates Cirque Éloize's quarter century as contemporary circus arts pioneers traveling the world. The fond impressions and memories from the many hotels they visited found a home in this glittering spectacle for the eyes and ears. Welcome to "one of the Canada's national treasures" (The Globe and Mail) in this exciting production.  
This performance is family friendly.
$55, $47, $33, half-price for youth through Grade 12.   
Run time: 85 minutes with no intermission.
Free Tickets for Mason Students
A limited quantity of free student tickets will be available two Tuesdays prior to the event.
Learn more
.