Great Performances at Mason
Cirque FLIP Fabrique
Friday
,
Mar.
31
at
8 p.m.
Saturday
,
Apr.
01
at
2 p.m.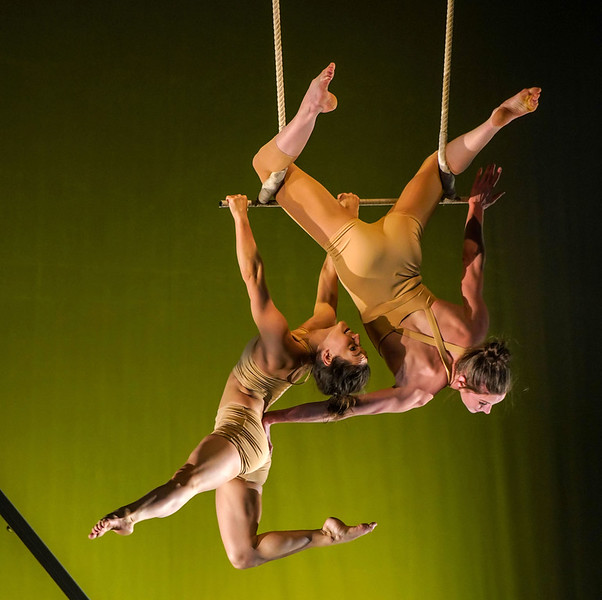 Muse
In this all-new, high-energy production, the seven acrobats of FLIP Fabrique don high heels, then football shoulder pads to dazzle audiences of all ages. Muse playfully pirouettes around and tackles the perennially complicated questions of gender archetypes—circus-style. Set to an original score by beatmaker Millimetric and featuring live onstage vocals by singer Flavia Nascimento, this performance combines breathtaking artistry and athleticism. Prepare for whimsy and wonder as mighty women, elegant men, and gravity-defying humans rejoice in who they are. Based in Quebec City, Canada, FLIP Fabrique is hailed around the world for its performances that are equally as fun and accessible for everyone as visually stunning. Raves The New York Times, "this troupe offers acts that don't seem humanly possible."
Recommended for ages 8 and up.
Prices: $50, $43, $30, half-price for youth through Grade 12
BEFORE THE PERFORMANCE
A pre-performance discussion by theater teacher, circus artist, and Mason alumnus Josh Vest will take place in Monson Grand Tier, which is located on the third level of the Center for the Arts Lobby, 45 minutes prior to curtain.
AFTER THE PERFORMANCE
There will be a post-performance discussion with the artists from the stage on Friday, March 31 and a post-performance meet-and-greet in the lobby on April 1.
FREE TICKETS FOR MASON STUDENTS
A limited quantity of free student tickets will be available for each event.
Learn more.
This program is sponsored by ManTech.