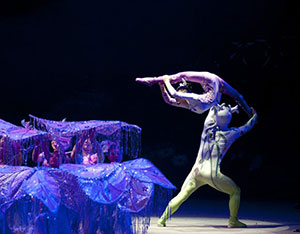 Buy Tickets  Subscribe and Save
Elite Circus Artists and Acrobats from the Hebei Province, China 
Direct from the People's Republic of China, this ensemble of elite circus performers thrills the young and old alike with their amazing feats of agility, strength, and poise. The spectacular performances are a colorful and lively celebration of the Chinese circus arts, which are famous throughout the world. Cirque Mei blends ancient artistry with breathtaking energy for a non-stop extravaganza of acrobatics, contortion tricks, juggling acts, and balancing feats. This remarkable company features 40 leading circus artists and acrobats from the northern Hebei Province who execute many of the most popular Chinese circus routines, including hoops diving, lion dance, collective bicycle skills, flying meteors, foot juggling with umbrellas, and more. Bring the whole family to experience the beauty, wonder, and excitement of Cirque Mei.
Cirque Mei will also be performed at the Hylton Performing Arts Center on George Mason University's Science and Technology campus on Thursday, October 24 at 8 p.m.
Tickets: $50, $43, $30
A pre-performance discussion begins 45 minutes prior to the performance, located on Monson Grand Tier. Seating is limited and opens 15 minutes before the pre-performance discussion.
Individual tickets go on sale August 1.
Free student tickets are available two weeks prior to this event.