Alert for Buying Tickets Online: Some customers are experiencing delays when purchasing tickets online. We are working with the vendor to resolve this issue. Please call the Ticket Office at 703-993-2787 for assistance.
Fairfax Symphony Orchestra: Beethoven at 250 - Soulmates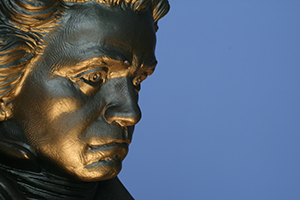 Beethoven: "Symphony of Symphonies"
French pianist Philippe Bianconi has been described as an artist whose playing is "always close to the soul of the music, filling the space with poetry and life," (The Washington Post) and who offers "an extraordinary exhibition of musicianship, technical control and good taste." (The Times of London). 
In celebration of the 250th Anniversary of Beethoven's birth in 2020, the FSO presents highlights from his most popular symphonies including Symphony No. 5, No. 7, and No.3 "Eroica".
MORE THAN NOTES:  Hear the stories behind the music with music director Christopher Zimmerman and special guests before the concert at 7pm.
Prices begin at $25. Student tickets are $15.