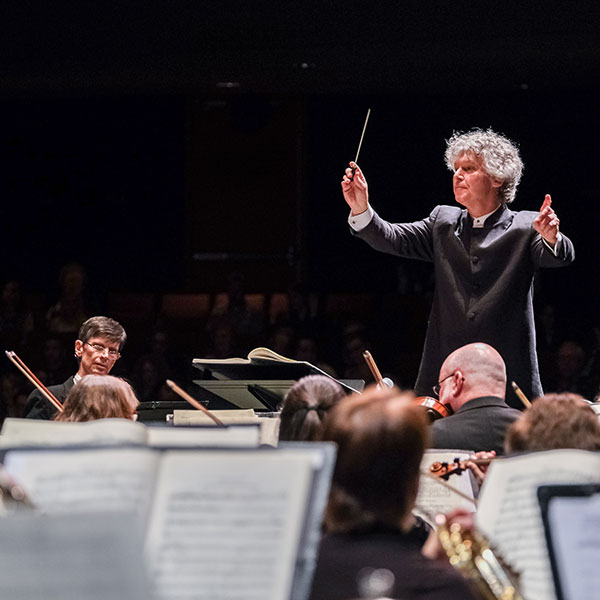 Fairfax Symphony Orchestra: Elgar & Dvorák
Saturday, Feb 19, 2022 8:00pm

Program*
Christopher Rouse: "Ku-Ka-Ilimoku"
Dvorák: Serenade for Wind Instruments
Adolphus Hailstork: Essay for Strings  
Arvo Pärt: Cantus in Memoriam Benjamin Britten
Elgar: Introduction and Allegro for Strings

The program opens with a bang with more than 40 percussion instruments on stage for Ku-Ka-Ilimoku by Christopher Rouse, bringing the fury and intensity of the Hawaiian god of war to the stage.
The program continues with the romantic and famous (yet rarely performed) Serenade for Wind Instruments by Dvorák.
Following a brief intermission, the FSO will perform the beautiful and moving Essay for Strings by American composer, Adolphus Hailstork. Dr. Hailstork resides in Virginia Beach, Virginia and is Professor of Music and Eminent Scholar at Old Dominion University in Norfolk.
This thrilling evening of music also features Arvo Pärt's Cantus in Memoriam Benjamin Britten. "Most contemporary composers aim to ravish the ear or to tickle (or boggle) the mind. (Arvo) Pärt is playing for higher stakes. He wants to touch something that he would call the soul, and to a remarkable extent, he is succeeding." – The New York Times 
The final piece, Elgar's famous Introduction and Allegro—one of Elgar's most brilliant works, is among the top string orchestra works in history!
*Guitarist Jason Vieaux was originally scheduled to perform the U.S. premiere of Sylvie Bodorova's "Bruromano" but has had to withdraw from the concert due to an injury.  The FSO looks forward to welcoming Mr. Vieaux next season for this historic premiere.
Student Tickets: $15
For information about the Fairfax Symphony Orchestra, please visit www.FairfaxSymphony.org
Before the Performance
A pre-performance discussion will take place in the Concert Hall one hour prior to the performance with Maestro Christopher Zimmerman and special guests.