Alert for Buying Tickets Online: Some customers are experiencing delays when purchasing tickets online. We are working with the vendor to resolve this issue. Please call the Ticket Office at 703-993-2787 for assistance.
Fairfax Symphony Orchestra: The Downton Abbey Era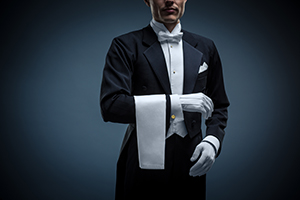 Janet Sung, violin
John Lunn: Downton Abbey Suite
Elgar: Pomp and Circumstance March No. 1
Vaughn Williams: Lark Ascending         
Ravel: Tzigane
Elgar: Enigma Variations
You are invited to an evening of all things quintessentially "British"— from the music of Downton Abbey in anticipation of the new movie, to the heavenly soaring of Vaughn Williams' poetic music, to Sir Edward Elgar's music of Edwardian grace and artistry. 
According to The Guardian, Vaughn Williams' Lark Ascending "…starts with the darkest, richest sounds a violin can make, then rises to an airy lightness, and it has become far and away Britain's most popular piece of classical music." Composed over 100 years ago, on the eve of WWI, this important work carries both a poignancy and beauty that are as powerful as ever. While conjuring images of bucolic, pastural landscapes and the impossible beauty of the skylark's song, you'll hear a sense of loss, too, of this difficult time in Britain's history.
Elgar composed his much-loved Enigma Variations to depict "friends pictured within," but the so-called enigma is an unplayed theme that he often hinted at but never revealed.  The exquisite "Nimrod" Variation, performed for the opening of the 2012 Olympic Games in London, is also heard at the end of the 2017 film Dunkirk. 
MORE THAN NOTES:  Hear the stories behind the music with music director Christopher Zimmerman and special guests before the concert at 7 p.m.
$15 Student tickets available
 Individual tickets go on sale August 1.