Alert for Buying Tickets Online: Some customers are experiencing delays when purchasing tickets online. We are working with the vendor to resolve this issue. Please call the Ticket Office at 703-993-2787 for assistance.
Fairfax Symphony Orchestra: The Four Seasons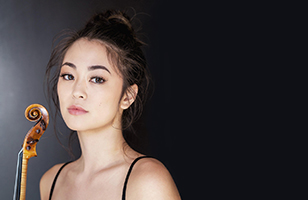 Simone Porter, violin
Vivaldi: The Four Seasons
Piazzolla: Four Seasons of Buenos Aires  
Violinist Simone Porter is the virtuoso soloist in Vivaldi's dazzlingly imaginative evocation of the sights, sounds and sensations of the Italian seasons. The Four Seasons violin concertos are so richly detailed you can feel the sirocco of summer, hear the dancing villagers of Autumn and slip on the ice of a Venetian winter.
The master of the New Tango, Ástor Piazzolla, brought the wild dance of Buenos Aires into the concert hall. There's an apt nod to Vivaldi in Leonid Desyatnikov's sensational string arrangements of the Estaciones Porteñas, but they have an atmosphere that's unique to Buenos Aires – fiercely sensual in summer, hazy and melancholic in winter, all moving to the heartbeat of the tango. Vivaldi's seasons enfold Piazzolla's in this dance around the year.
"Simone Porter is quite simply marvelous and reminded me of the young Yehudi Menuhin — the same kind of remarkable golden tones and vibrant smoothness, the huge sound, the sense that any technical virtuoso challenges are a figment of the imagination…" (Edmonton Journal)
MORE THAN NOTES:  Hear the stories behind the music with music director Christopher Zimmerman and special guests before the concert at 7pm.
Prices begin at $25. Student tickets are $15.