Mason School of Art and Mason Exhibitions
Fall 2022 Visual Voices Lecture with Ellen Lesperance
Thursday
,
Nov.
03
at
7:30 p.m.
Virtual Event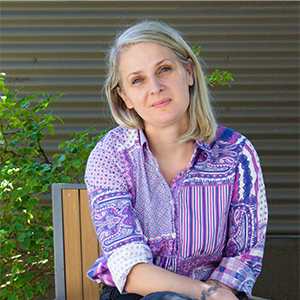 Visual Voices Colloquium is the Professional Lecture Series of the School of Art and Design and represents a window into the professional world of art and design. Speakers are chosen with faculty guidance to represent leading and emerging talented practitioners, as well as artists whose work lies beyond the subject areas of the program offerings. 
The purpose of the course and the program is to broaden students' exposure and vocabulary to professional work being created today. It also provides an opportunity for Art and Design students and members of the public to interact with speakers via a virtual Q&A following their lecture, giving them the chance to exchange ideas and pose questions to the guest speakers.
About the Artist: Ellen Lesperance's paintings on paper, rendered in gouache in universal knitting shorthand, can be followed as patterns to recreate historic garments worn by women activists, warriors, and cultural figures. For the past decade, she has additionally archived protest knitwear worn by the separatist feminists of the Greenham Common Women' Peace Camp who demonstrated against U.S. nuclear weapons storage in Berkshire, England (1981 to 2000). In 2020, Lesperance published a book of this archive titled Velvet Fist.
Free and open to the public.