Mason School of Art and Mason Exhibitions
Fall 2022 Visual Voices Lecture with Jon Henry
Thursday
,
Sep.
29
at
7:30 p.m.
Virtual Event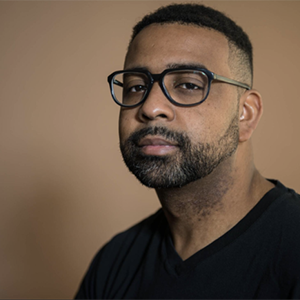 Visual Voices Colloquium is the Professional Lecture Series of the School of Art and Design and represents a window into the professional world of art and design. Speakers are chosen with faculty guidance to represent leading and emerging talented practitioners, as well as artists whose work lies beyond the subject areas of the program offerings. 
The purpose of the course and the program is to broaden students' exposure and vocabulary to professional work being created today. It also provides an opportunity for Art and Design students and members of the public to interact with speakers via a virtual Q&A following their lecture, giving them the chance to exchange ideas and pose questions to the guest speakers.
About the Artist: Jon Henry is a visual artist working with photography and text, from Queens NY (resides in Brooklyn). His work reflects on family, sociopolitical issues, grief, trauma, and healing within the African American community. His work has been published both nationally and internationally and exhibited in numerous galleries including Aperture Foundation, Smack Mellon, and BRIC among others. Known foremost for the cultural activism in his work, his projects include studies of athletes from different sports and their representations.
Free and open to the public.