Grand Piano Celebration*
Presented By
All online
When/Where
Sunday, Sep 13, 2020 3:00pm
Virtual Event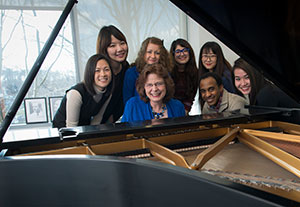 Get ready for an afternoon of joyous music during Mason's own "All-Steinway" event, featuring livestreamed and recorded performances. Showcasing the Dewberry School of Music's extraordinary student and faculty artists, and including a tribute by Mason President Gregory Washington, this concert celebrates the renaming of the School in honor of the Reva and Sid Dewberry Family. Dr. Linda Apple Monson, the director of the School and International Steinway Artist, and her colleagues will perform alongside gifted student artists. The musicians' performances will be dedicated to the Dewberry family who made the "All-Steinway School" possible.
The performance video will premiere on this webpage on Sunday, September 13 at 3 p.m. You may view it here or on the Center for the Arts YouTube and Facebook pages.
To enable automated closed captioning for the Facebook video, please navigate to the bottom right of the video pane and click the "CC" button.
FREE
Pre-registering for the event is not required but if you RSVP you will be sent a reminder e-mail with the event link the morning of the event.
Fall Dewberry School of Music performances as part of Mason Arts at Home are free. Our students are creating work under challenging circumstances and many face increased financial hardship due to COVID-19. A gift of any size in support of scholarships will help these young musicians complete their education. Make a gift.
School of Music students:  MUSI 300 credit events are marked with (*).