Great Performances at Mason
Indigenous Enterprise
Saturday
,
Apr.
29
at
8 p.m.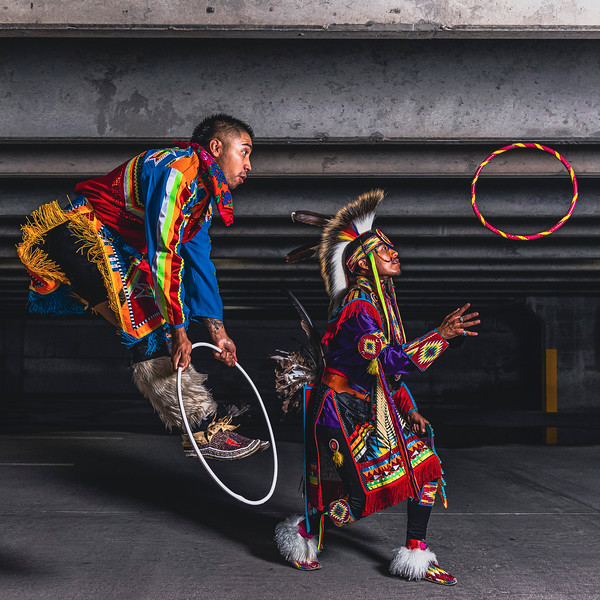 Mason Artist-in-Residence
Indigenous Liberation
Indigenous Enterprise is on a mission to proudly share their heritage and culture through explosively joyous authentic dance and song. Comprised of champion dancers from Native American and Canadian tribes and Nations, this group first stunned crowds at the Sydney Opera House in 2018, and has been on the rise since. "Indigenous Enterprise is rooted in tradition but also has hip-hop influences, discernible in footwork, bounce, and especially attitude," writes The New York Times. They have appeared in music videos, NBC'S World of Dance, and President Biden's virtual inauguration parade. The group's newest work, Indigenous Liberation, recently debuted at the Joyce Theater to glowing praise. "In their traditional regalia, these dancers freestyle as the young people they are," says The New Yorker. Indigenous Liberation invites its audience to revel in the pageantry, history, and kaleidoscope of colors in a celebration of what lies at the heart of these powerful traditions. As a Mason Artist-in-Residence, members of the company will work with the community through classes and workshops during the week surrounding the performance.
This performance is appropriate for all ages.
Prices: $48, $41, $29, half-price for youth through Grade 12
BEFORE THE PERFORMANCE
A pre-performance discussion will take place in Monson Grand Tier, which is located on the third level of the Center for the Arts Lobby, 45 minutes prior to curtain.
FREE TICKETS FOR MASON STUDENTS
A limited quantity of free student tickets will be available for each event.
Learn more.