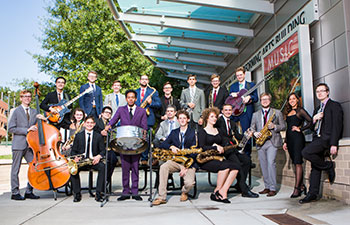 The Mason Jazz Ensemble, directed by Jim Carroll, collaborates with Ed Weiner and the law community to present its annual benefit concert, Jazz 4 Justice™. Proceeds from this performance support vital community efforts by Legal Services of Northern Virginia and the George Mason University Jazz Studies Department.
Reception and Jam Session immediately following the concert.
Tickets: $20/$15/$15.
2 Free tickets per Mason student ID avail. 10/29/19
School of Music students: MUSI 300 credit events are marked with (*).