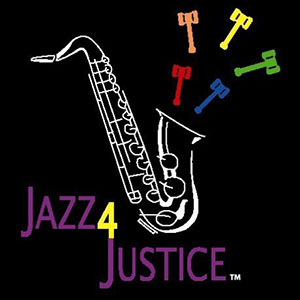 Dewberry School of Music
Jazz 4 Justice™*
Saturday, Nov 20, 2021 8:00pm

Join us in celebrating twenty years of the incredible impact of Jazz4Justice™!
Established in 2001 by Fairfax, VA attorney Edward L. Weiner, Esq. and Founder of Mason Jazz Studies, Jim Carroll, Jazz4Justice™ is an award-winning annual concert presented by Legal Services of Northern Virginia (LSNV) and Mason Jazz Studies.
Jazz4Justice™ is a truly unique event where attorney's, judges, students and members of the Northern Virginia community gather to celebrate their love of jazz. Proceeds from the evening benefit LSNV to continue its mission of service to the Northern Virginia community as well as providing financial support for the Mason Jazz Studies department.
Tickets: $20/$15/$15
Free Tickets for Mason Students
A limited quantity of free student tickets will be available two Tuesdays prior to the event.
Learn More
.