Details for purchasing tickets to performances in 2021 will be announced later in the fall of 2020. Learn more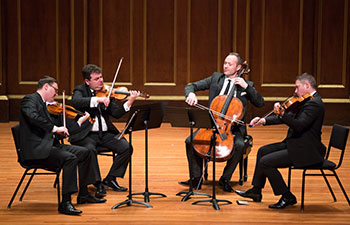 Featuring Pinchas Zukerman, violin/viola and Amanda Forsyth, cello
Bruckner: Adagio from String Quintet in F major
Dvorák: Sextet for Strings in A major, Op. 48
Brahms: Sextet for Strings in B-flat major, Op. 18 
Grammy® ward-winning conductor, violinist, and violist Pinchas Zukerman, and Canadian Juno Award-winning cellist Amanda Forsyth join forces with the Jerusalem Quartet for a trio of radiant Romantic-era works by Bruckner, Dvorák, and Brahms. Highly accomplished and much in demand in their own right, the husband and wife duo of Zukerman and Amanda Forsyth create a sextet with the four Israeli artists in a dazzling display of virtuosity. Receiving glowing praise for their extensive repertoire and depth of expression, ensemble members Alexander Pavlovsky (violin), Sergei Bresler (violin), Ori Kam (viola), and Kyril Zlotnikov (cello) display "passion, precision, warmth, [and] a gold blend," (The New York Times). Widely recognized as one of the top international chamber ensembles, the Jerusalem Quartet has left its mark on stages around the world and now it brings its world-class musicianship to the Center.
$60, $51, $36
Run time: 120 minutes, including a 20-minute intermission
Details for purchasing tickets will be announced later in the fall of 2020.
Free student tickets are available two weeks prior to this event.
This performance is sponsored by the Mather in Tysons.