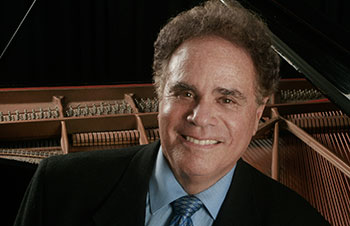 Keyboard Conversations® with Jeffrey Siegel: Celebrating Beethoven
Sunday, Apr 11, 2021 7:00pm

Virtual Event
Live from the Hylton Center
Welcome back to the stage virtuoso pianist Jeffrey Siegel for a digital, livestreamed Keyboard Conversations® concert with commentary recorded live from the Merchant Hall stage at the Hylton Center. Siegel celebrates the 250th anniversary of Beethoven's birth with some of the composer's best-loved works. This concert features the beloved "Moonlight" Sonata, Op. 27 and the Sonata in A-flat major, Op. 110, which Beethoven wrote after deafness had engulfed him. "A musical bridge-builder in action … Siegel showed just how illuminating the combination of words and abstract music can be," (Toronto Star). 
With safety measures in place to protect audience and  staff, an interactive question and answer session will not take place following  this performance.
Digital access pass: $15-$45, Pay-what-you-wish in $5 increments
How to Watch

How to Watch: Access Passes are available for purchase until 4 p.m. ET on April 11 and may be used to view the performance between April 11 at 7 p.m. and April 18 at 11:59 p.m.

Receive Access Code: On the day of the event, your personal access code will be emailed to you approximately one hour prior to the event from the address contact@mylive-now.com. (To ensure delivery, please add contact@mylive-now.com to your safe senders list in your email client.)

Redeem Access Code: To watch the performance, visit here and enter your access code. The codes are case-sensitive. For more information on how to view the event, visit gmu.mylivenow.net….

For assistance with access codes or viewing, patrons should contact the Ticket Office. On the day of the event, the Ticket Office will be open two hours prior to the event and one hour after the start time. Our regular business hours are Tuesday through Saturday, 10 a.m. to 6 p.m.
Free Tickets for Mason Students
Limited free tickets for Mason Students are available. Learn more.