L.A. Theatre Works: SEVEN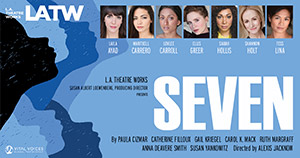 Buy Tickets  Subscribe and Save
SEVEN
By Paula Cizmar, Catherine Filloux, Gail Kriegel, Carol K. Mack, Ruth Margrnff, Anna Deavere Smith and
Susan Yankowitz
SEVEN is a powerful theatrical experience that tells the true stories of seven women from around the globe, who bravely fought to create real and lasting change in their communities. These courageous women from Pakistan, Nigeria, Ireland, Afghanistan, Guatemala, Russia, and Cambodia faced life-threatening obstacles to bring about major improvements in the lives of women and girls in their home countries. Seven acclaimed playwrights — Paula Cizmar, Catherine Filloux, Gail Kriegel, Carol K. Mack, Ruth Margraff, Anna Deavere Smith, and Susan Yankowitz — collaborated to weave together a tapestry of poignant stories relaying the struggle, threats, and violence along the road to triumph. The documentary play, created with the support of the D.C.-based non-profit Vital Voices Global Partnership, has been translated into 27 languages and performed worldwide in more than 30 countries. "SEVEN emphasizes the truth that the dignity and rights of women are essential to every culture around the globe" (AudioFile Magazine).
SEVEN was created with the support of the Vital Voices Global Partnership, the preeminent non-governmental organization (NGO) that identifies, trains and empowers extraordinary women around the world by unleashing their leadership potential to transform lives and accelerate peace and prosperity in their communities. These women have returned home to train and mentor more than 500,000 additional women and girls in their communities. They are the Vital Voices of our time. 
Please note: SEVEN is based on stories of struggle, and some content may not be suitable for young audience members. Parents are encouraged to explore the content to determine appropriateness for their children. Information about the women of SEVEN and their stories is available by visiting Vital Voices.
This performance is for mature audiences.
Inspired by the L.A. Theatre Works play, SEVEN, the Center for the Arts set out to discover SEVEN WOMEN OF MASON who have stories of overcoming adversity, influencing change, and pursuing transformation in their communities. See their stories.
$44, $37, $26
A pre-performance discussion with Vital Voices' CEO Alyse Nelson begins 45 minutes prior to the performance, located on Monson Grand Tier. Seating is limited and opens 15 minutes before the pre-performance discussion.
Join us for post-performance Cocktails and Conversations in the lobby with members of the cast, moderated by Kristin Johnsen-Neshati.
Free student tickets are available two weeks prior to this event.