Alert for Buying Tickets Online: Some customers are experiencing delays when purchasing tickets online. We are working with the vendor to resolve this issue. Please call the Ticket Office at 703-993-2787 for assistance.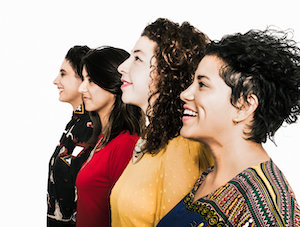 Buy Tickets  Subscribe and Save
Celebrate Hispanic Heritage Month with this extraordinary performance by the "Female Latin Powerhouse group LADAMA" (LA Weekly). This fresh and vibrant quartet innovates "Latin Alternative" music, seamlessly shifting instrumentation between bandola llanera (a mandolin relative), guitar, voice, and various percussion instruments. Each of these talented women, Lara Klaus, Daniela Serna, Mafer Bandola, and Sara Lucas, are musical and social trailblazers, hailing from across the Americas—Brazil, Colombia, Venezuela, and the United States. Their unique and energetic sound is not easily categorized: it effortlessly glides from electric to acoustic, from Spanish to English to Portuguese, and blends South American and Caribbean styles such as cumbia, coco, maracatu, onda nueva and joropo with soul, R&B, and pop. "The result is a vivid montage of music of the Americas with irresistible spirit and universal appeal," (NPR).
Note: This performance has been moved from its original location in Harris Theatre to the Center for the Arts Concert Hall.
Tickets: $25
Individual tickets go on sale August 1.
Free student tickets are available two weeks prior to this event. 
This program is funded in part by ARTSFAIRFAX.