Details for purchasing tickets to performances in 2021 will be announced later in the fall of 2020. Learn more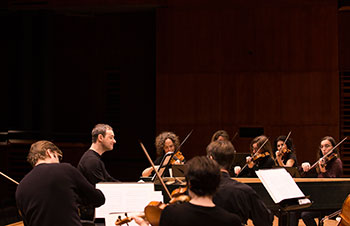 Jeremy Denk, piano
H. von Bingen, O virtus Sapientus (transcript. for strings*)
Byrd, Haec dies (transcript. for strings*)
Morley, Christes crosse (transcript. for strings*)
Monteverdi, Zefiro torna e soavi accenti
J.S. Bach, Keyboard concerto in E major, BWV 1053
Biber, Battalia a 10 - Sonata di marche
Purcell, Fantasia a 4 in D Minor, Z. 739   
Dowland, Lachrimae or "Seaven Teares"     
Gesualdo, Moro, lasso, al mio duolo (transcript. for strings*) 
J.S. Bach, Keyboard concerto in D minor, BWV 1052
Delight in an enchanting concert of Baroque and early music favorites by the esteemed French-Canadian chamber orchestra Les Violons du Roy and acclaimed pianist Jeremy Denk. Called "the best early-music ensemble in North America" (The Washington Post), it presents a charming concert featuring two Bach keyboard concertos as well as music by Purcell, Monteverdi, Dowland, and more. Under the direction of Jonathan Cohen, the orchestra has earned widespread critical acclaim for its exquisitely authentic performances of early music on modern instruments and has become a focal point of Québec City's musical life. Joining the orchestra is one of America's foremost pianists, Denk. Winner of a MacArthur "Genius" Fellowship and the Avery Fisher Prize, he was recently elected to the American Academy of Arts and Sciences. "Mr. Denk...is a pianist you want to hear no matter what he performs...both for his penetrating intellectual engagement with the music and for the generosity of his playing," (The New York Times).
$55, $47, $33
Run time: 105 minutes, including a 20-minute intermission
Details for purchasing tickets will be announced later in the fall of 2020.
Free student tickets are available two weeks prior to this event.