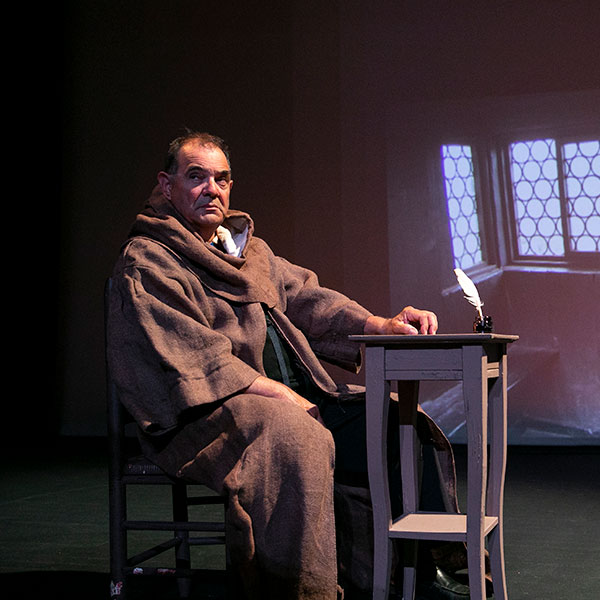 Mason School of Theater
Luther's Trumpet
Friday, May 28, 2021 8:00pm

Virtual Event
This performance was available to watch from Friday, May 28 at 8 p.m. until Friday, June 4 at 5 p.m.
By James Reston, Jr.
Directed by Rick Davis
Acclaimed historian James Reston, Jr. adapted his 2016 book Luther's Fortress into this new dramatic work that will leave you pondering questions about faith, justice, and standing up against authoritarianism. Presented by Mason Arts at Home as a digital, pre-recorded performance in partnership with Mason's School of Theater, Luther's Trumpet stars professional actors including Edward Gero as Martin Luther, Kevin Murray as Tetzel, and Craig Wallace as Pope Leo. Judge David Tatel (U.S. Court of Appeals) reprises the role of the Devil, which he portrayed in the 2018 premiere production at Stone Hill amphitheater. Mason students join community and faculty actors in this "hybrid" workshop production recorded from the Center for the Arts Concert Hall, employing the Moving Story Window Wall projection technology (developed at Mason) in order to blend scenic effects and on-stage actors with others appearing remotely.
Martin Luther's Reformation is under siege in Luther's Trumpet, which takes place a few years after Luther famously nailed his 95 Theses to the door of Castle Church in Wittenberg, Germany. (Reston's book was published in 2016 to mark the 500th anniversary of the 95 Theses.) In 1521, the Catholic Church hunts for the excommunicated monk now branded a heretic, seeking to silence him—by burning him at the stake—and suppress his Reformation Movement, but Luther's followers arrange for him to hide in Wartburg Castle. There, despite formidable external foes, like Pope Leo X and Holy Roman Emperor Charles V, and internal battles with the Devil, Martin Luther translates the New Testament into German and struggles with his enforced celibacy as a Catholic priest. When he emerges from his fortress after eight months, his Reformation gives birth to Protestantism, and the Christian religion is forever transformed. "Galileo changed the history of science forever, and Luther changed the history of religion forever," shares playwright Reston. "As theatrical characters they are both dynamic, bombastic, flawed, and irresistible. The audience will leave the play, I hope, with important questions to ponder."
With a cast of Mason faculty, community, and student actors, including:
Edward Gero: Martin Luther
Kevin Murray: Tetzel
Craig Wallace: Pope Leo X 
Alison Weisgall: Cardinal Giuliano de Medici 
Hugh Hill: Hans
Karen Hochsetter: Argula van Stauff
David Tatel: The Devil
Steven Franco**: Phillip
Hasan Crawford**: Charles V, Holy Roman Emperor
** Mason student
Image: Edward Gero as Martin Luther. Photo by Shelby Burgess/Mason Creative Services.
FREE 
How to Watch
The performance was available to watch beginning
May 28 at 8 p.m. until Friday, June 4 at 5 p.m.
Give
Spring 2021 School of Theater performances as part of Mason Arts at Home are free. You can give back to these students by supporting their education. A gift of any size in support of scholarships is deeply appreciated. Make a gift.
This production of Luther's Trumpet was made possible by the generosity of the following individuals and corporations: Harry and Pam Bookey, John Henry, John Jacquemin, Pete Linsert, Ron Maxwell, David and Marina Ottaway, Sandra Read, Jonathan M. Weisgall, and the Berkshire Hathaway Energy Foundation.