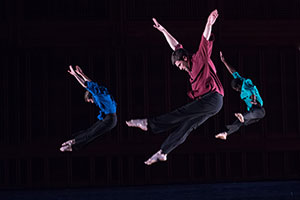 Subscribe and Save  Buy Tickets
With the MMDG Music Ensemble
Mark Morris Dance Group (MMDG), one of the most revered contemporary dance companies performing today, returns to their Northern Virginia home at the Center. This influential dance company performs to live music by the MMDG Music Ensemble in a diverse program that includes Little Britten, The Trout, a brand new work set to music from Schubert's Trout Quintet, and another of Morris' newest works, Numerator. Set to the music of Lou Harrison, Numerator, is described as "…dreamlike…surreal… with sharp, unexpected detours" (MassLive) and "dramatic poetry" (The New York Times). Don't miss this spellbinding performance of dances created by Mark Morris, hailed as "the most successful and influential choreographer alive, and indisputably the most musical" (The New York Times).
Tickets: $50, $43, $30
A pre-performance discussion with Nancy Umanoff, Executive Director of Mark Morris Dance Group, begins 45 minutes prior to the performance.