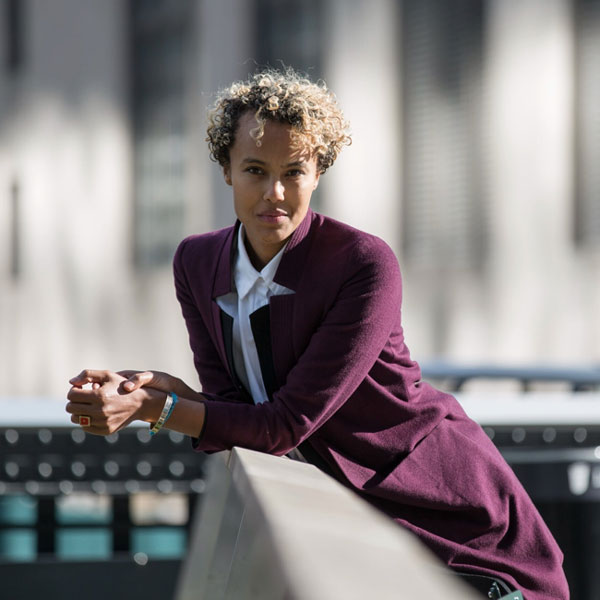 Mason Arts at Home: Augmented Reality in Art
Monday, Oct 04, 2021 12:00pm

Virtual Event
Co-creator of CARTOGRAPHY and Mason Artist-in-Residence Kaneza Schaal's interest in technology and the arts has been consistent in her work over the years. When the pandemic hit, she recognized that a new way to engage with live performance was on the horizon. Through a collaboration with the Center for the Arts, Virginia Serious Games Institute, and the Game Design Program, Schaal embarked on a creative journey to integrate augmented reality technology into a new work entitled KLII, which will premiere at The Walker Arts Center in January. In this digital talk, Schaal will discuss the year-plus long process of creation, her thoughts on the future of technology and the arts, and share a bit of where the Augmented Reality piece is now. There will be time for questions at the end of the livestream.
Registration for this event is required. Register at this link to reserve your spot and you will be emailed out a link the morning of the digital event.
Experience Kaneza's innovative play CARTOGRAPHY the Saturday before the conversation, on October 2 at 7 pm. Inspired by the artists' creative work with refugees worldwide, this interactive performance charts a new map for its characters using visual arts, storytelling, and filmmaking
Kaneza Schaal is a New York City based artist working in theater, opera, and film. Schaal was named a 2021 Guggenheim Fellow, and received a 2021 Herb Alpert Award in Theatre, Sundance Institute Interdisciplinary Program Grant, 2019 United States Artists Fellowship, SOROS Art Migration and Public Space Fellowship, Joyce Award, LMCC Alumni Award, 2018 Ford Foundation Art For Justice Bearing Witness Award, 2017 MAP Fund Award, 2016 Creative Capital Award, and was an Aetna New Voices Fellow at Hartford Stage. Her project GO FORTH, premiered at Performance Space 122 and then showed at the Genocide Memorial Amphitheater in Kigali, Rwanda; Contemporary Arts Center New Orleans; Cairo International Contemporary Theater Festival in Egypt; and at her alma mater Wesleyan University, CT. Her work JACK & showed in BAM's 2018 Next Wave Festival, Museum of Contemporary Art Chicago, and with its co-commissioners Walker Arts Center, REDCAT, On The Boards, Cincinnati Contemporary Arts Center, and Portland Institute for Contemporary Art. Schaal's piece CARTOGRAPHY premiered at The Kennedy Center and toured to The New Victory Theater, Abu Dhabi Arts Center and Playhouse Square, OH. Her dance work, MAZE, created with FLEXN NYC, premiered at The Shed. Most recently, she directed Triptych composed by Bryce Dessner with libretto by Korde Arrington Tuttle, which premiered at LA Philharmonic, The Power Center in Ann Arbor, MI, BAM Opera House and Holland Festival. Her newest original work KLII, is a National Performance Network (NPN) Creation & Development Fund Project co-commissioned by Walker Art Center in partnership with Contemporary Arts Center, Cincinnati, and REDCAT, and was co-commissioned as part of the Eureka Commissions program by the Onassis Foundation. Schaal will develop and direct a number of upcoming works including SPLIT TOOTH with Tanya Tagaq (Luminato Festival, Canada), HUSH ARBOR with Imani Uzuri (The Momentary, AZ) and BLUE at Michigan Opera Theater.
Photo Provided by Rolex/Bart Michiels