Mason Players' Originals! Part 1 and Part 2
Presented By
Mason School of Theater
When/Where
Saturday, Nov 21, 2020 7:00pm
Virtual Event
Saturday, Nov 21, 2020 8:00pm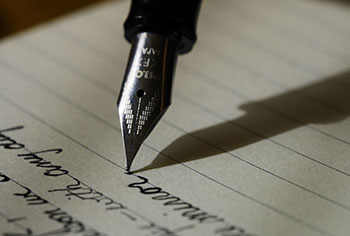 Part One: 7 p.m. / Part Two: 8 p.m. 
A series of plays and presentations, each 10 minutes in length, that showcases The Mason Players' student writers and creative artists. The performances are pre-recorded and will premiere in two parts. 
The performances will be streamed simultaneously on this webpage below, and on Facebook and YouTube at the scheduled times.

The Mason Players' program for Mason Players' Originals! Part 1 and Part 2.
Part One:
Premieres November 21 at 7 p.m.
Part Two:
Premieres November 21 at 8 p.m.
Part One: 
Reincarnate by Jacob Horowitz 
Tom, a writer, goes to a support group for reincarnated playwrights. 
Punchline by Jeremy Pritchard 
Spend an intimate evening with your hostess with the mostest, Toni A. Ward, the broadest broad who never played Broadway, in this poignant one-person tour de force performance. 
How to Get Caught with Murder by Kendal Ferguson 
Tormented by a guilty conscience over his wife's death, Nelson is compelled to confess his crimes. Conveniently, a police officer knocks on his door. Inconveniently, the officer knows a little too much about "irony." 
Tomorrow Is my Day by Bella Panciocco 
We worry about tomorrow. The world is always focused on the next day. What's to come? What will the future bring? What's going to happen to these characters…tomorrow?  
Part Two: 
How Jane Got Married by Caroline Austin 
Jane is a young therapist challenged with the most daunting task of her career: group therapy with three of Shakespeare's tragic heroes. As she tries to show Hamlet, Romeo, and Antony the error of their ways, she is met with sarcasm, teenage resistance, and... romance? 
Inside Are We Monsters? by J. D. Clark 
A new company hire and his compatriots work to change the rigged system amidst worldwide upheaval.  
Look for the Good by Ariel Kraje 
Everyone expresses pain in a different way. Instead of dealing with it alone, we can use technology to stay connected. An exploration of the Stages of Grief through movement in the time of pandemic. 
Algún Día (Someday) by Sophia Inserra 
The story of two women from seemingly parallel worlds hustling to make it to their "someday"—a point in life when dreams become a reality. 
To enable automated closed captioning for the Facebook video please navigate to the bottom right of the video pane and click the "CC" button. 
Registration for the event is not required, but if you RSVP HERE you will be sent a reminder with details for how to watch prior to the event. 
FREE 
Fall School of Theater performances as part of Mason Arts at Home are free. Our students are creating work under challenging circumstances and many face increased financial hardship due to COVID-19. A gift of any size in support of scholarships will help these young artists complete their education. Make a gift.