Great Performances at Mason
Nrityagram Dance Ensemble
Saturday
,
Nov.
05
at
8 p.m.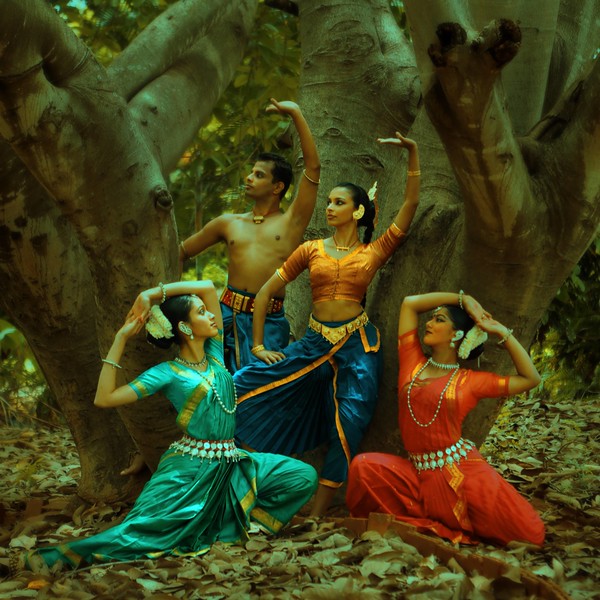 Mason Artist-in-Residence
In collaboration with Chitrasena Dance Company
Ahuti
Set to the sounds of live flute, violin, harmonium, manjira, and drums onstage, Ahuti is a mesmerizing performance and collaboration between Mason Artist-in-Residence Nrityagram Dance Ensemble and the Chitrasena Dance Company. Through the classical movements of Odissi dance, Nrityagram Dance Ensemble brings stories of the Hindu epics to life with their bodies. Chitrasena has been leading the development of Kandyan dance in Sri Lanka, being a key proponent to opening this dynamic style to women, whilst also preserving it as a cultural tradition. Nrityagram Dance Ensemble has been on The New York Times' "Best Dance of the Year" list for two consecutive years, in 2015 and 2016. More than a dance company, Nrityagram was founded as a one-of-a-kind community devoted to the art of dance. The all-female ensemble's daily life includes intensive training and meditation, which they bring to the stage in sensual and lyrical performances admired worldwide. "The women of the Nrityagram Dance Ensemble are rock stars in the dance world!" (New York Post). "So beguiling, you resist blinking in case you miss a moment!" (The Herald). As Mason Artists-in-Residence, the companies will also work with the community through classes and workshops during the week leading up to the performance.
This performance is appropriate for all ages. 
Prices: $50, $43, $30, half-price for youth through Grade 12
Run Time: 95 minutes, including intermission
BEFORE THE PERFORMANCE
A pre-performance discussion will be led by Arpita Sabud, Odissi dancer and teacher at the
India International School and Cultural Center
and KalpaVriksha Center for Performing Arts, and will take place in Monson Grand Tier, which is located on the third level of the Center for the Arts Lobby, 45 minutes prior to curtain.
AFTER THE PERFORMANCE
The artists will participate in a post-performance discussion from the stage.
ARTIST IN CONVERSATION EVENT
Join us for an exclusive event with The Nrityagram Dance Ensemble of India and Sri Lanka's Chitrasena Dance Company on Tuesday, Nov. 1 at 7 p.m.
Learn more
.
FREE TICKETS FOR MASON STUDENTS
A limited quantity of free student tickets will be available for each event.
Learn more.
This program is sponsored by Mid Atlantic Arts Foundation.
This project is supported in part by the National Endowment for the Arts.