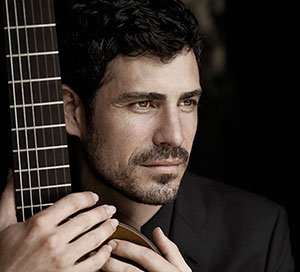 Subscribe and Save  Buy Tickets
Americano
Nacho Arimany, percussion; Pedro Giraudo, bass
Praised as "the soul of the Spanish guitar," guitar virtuoso Pablo Sáinz Villegas presents Americano, a program that traces the history of the guitar in the Americas. Sáinz Villegas is joined onstage by master world music percussionist Nacho Arimany and Argentinean bassist Pedro Giraudo to perform treasures including Broadway and film scores from Leonard Bernstein and John Williams, Spanish rhythms of Alma Llanera and Antonia Lauro, Brazilian funk and tango from Heitor Villa-Lobos and João Teixeira Guimarães, and even some Appalachian bluegrass. One of this generation's great guitarists, Pablo Sáinz Villegas has become a worldwide sensation for his "virtuosic playing characterized by irresistible exuberance." (The New York Times), and is celebrated for his passionate, emotive, and open-hearted style. Radiating charisma, he has appeared on some of the world's most prestigious stages including New York's Carnegie Hall and the Philharmonie in Berlin. Now this "master of the guitar" (Plácido Domingo) appears at the Center for the Arts in this highly anticipated concert.
Tickets: $46, $39, $28
A pre-performance discussion with a member of the company begins 45 minutes prior to the performance.