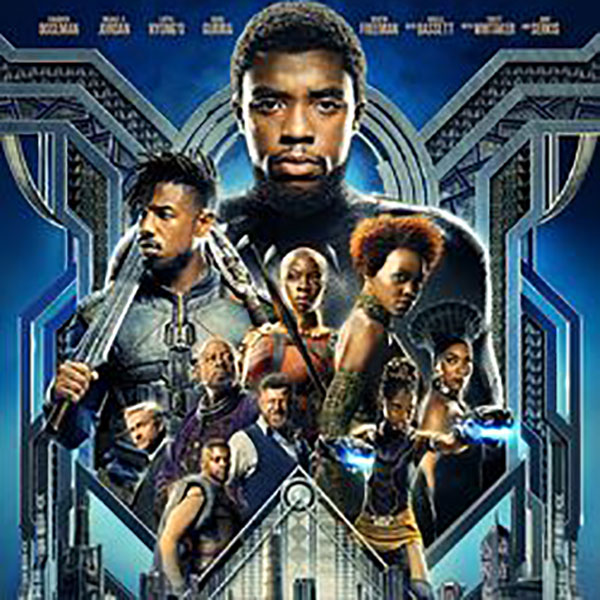 Shaolin Jazz: Can I Kick It? Black Panther
Friday, Sep 17, 2021 7:00pm

Location: Mason Pond Lawn
Presented by the Visiting Filmmakers Series, Green Machine, Student Involvement and Center for the Arts.
The Visiting Filmmakers Series is co-hosting an outdoor movie screening with the fabulous Shaolin Jazz this September. SHAOLIN JAZZ - CAN I KICK IT? BLACK PANTHER is next level. Gerald Watson and DJ 2-Tone Jones proudly present a unique film experience made for lovers of Kung-Fu flicks, the music they inspired, and everything else in between. At each event, martial arts and other films are screened and scored, scene-by-scene, with a blend of Hip Hop, Soul, Funk and more remixed live by DJ 2-Tone Jones.
On September 17, experience Black Panther anew -- with a soundtrack remixed live by DJ 2-Tone Jones to accentuate and elevate your favorite scenes. 
About Shaolin Jazz: A testament to the stylistic connections between Jazz and Hip-Hop, Shaolin Jazz is a mix project that fuses Jazz songs and breaks with a cappellas and vocal samples from the iconic Hip-Hop group Wu-Tang Clan. The inspiration for SHAOLIN JAZZ came by way of graphic designer Logan Walters, who recreated a series of Wu-Tang album covers to resemble those of earlier Blue Note and Impulse Jazz album covers.
Join us for this fun, family friendly evening, also featuring a live performance by George Mason University's acclaimed pep band, The Green Machine, before the film starts. 
This event will be held on Mason Pond Lawn, which is the outdoor performance space across from the Center for the Arts on George Mason University's Fairfax campus.
Registration and Ticketing
Mason students: Log in to
Mason360
to reserve your space. Everyone must register individually. You'll receive additional details via email when you register.
General public
(including Mason faculty and staff):
Please register using this link
. You'll receive additional details via email when you register.
This event is free but registration is required for admission. When you register, you'll receive a confirmation email that will serve as your ticket for the event.
Additional details will be emailed to registered guests closer to the day of the event.
In the event of rain, the show will move inside the Center for the Arts Concert Hall at George Mason University.
Schedule7:30pm
– Lawn Opens for Guest Seating
7:45pm-8:15pm
– Performance by
The Green Machine
8:30pm
– Film Begins
What to Expect
Seating on Mason Pond Lawn is general admission per section. Please do bring lawn chairs, blankets, or umbrellas. This is an open, grassy lawn, and patrons will be able to seat themselves as they arrive. A limited number of physically-distanced seating will be provided on a first-come-first served basis.
Face coverings are required outdoors for all unvaccinated individuals and are highly encouraged for all patrons. Face coverings may be removed only when eating or drinking.
Patrons are encouraged to bring bottled water and snacks. Alcoholic beverages are strictly prohibited from Mason Pond Lawn events.
Parking
Free parking will be available in Lot K.
Designated accessible parking for vehicles bearing valid Department of Motor Vehicles (DMV) disability parking placards or license plates is available on a first-come, first-served basis. Spaces are available on Mason Pond Drive as well as in the Buchanan Parking Lot, building 4
on this Fairfax campus map
.
Mason Pond Drive will be closed for the event; however, accessible parking can be accessed from the Patriot Circle roundabout solely for this purpose.
Plan your visit to Mason by checking out details on parking and directions before you arrive.
Shaolin Jazz: Can I Kick It?: Black Panther is presented by Visiting Filmmakers Series, Green Machine, Student Involvement, and Center for the Arts.
With support from Film and Video Studies, College of Visual and Performing Arts, College of Humanities and Social Sciences, University Libraries, University Life, and Welcome2Mason.