Shen Yun
| | | |
| --- | --- | --- |
| When/Where | Thursday, Jan 16, 2020 2:00pm | Center for the Arts, Concert Hall, Fairfax Campus |
| | Friday, Jan 17, 2020 7:30pm | |
| | Saturday, Jan 18, 2020 2:00pm | |
| | Saturday, Jan 18, 2020 7:30pm | |
| | Sunday, Jan 19, 2020 2:00pm | |
| | Tuesday, Mar 10, 2020 7:30pm | |
| | Wednesday, Mar 11, 2020 2:00pm | deLaski Performing Arts Building, A101, Black Box, Fairfax Campus, deLaski Performing Arts Building, A105, TheaterSpace, Fairfax Campus, deLaski Performing Arts Building, A102, Theatre Dressing Room, Fairfax Campus, Center for the Arts, Concert Hall,… |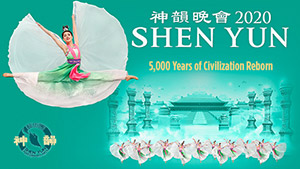 SHEN YUN'S unique artistic vision expands theatrical experience into a multi-dimensional, inspiring journey through one of humanity's greatest treasures—the five millennia of traditional Chinese culture.
This epic production immerses you in stories reaching back to the most distant past. You'll explore realms even beyond our visible world. Featuring one of the world's oldest art forms— classical Chinese dance—along with patented scenographic effects and all-original orchestral works, Shen Yun opens a portal to a civilization of enchanting beauty and enlightening wisdom. 
Traditional Chinese culture—with its profoundly optimistic worldview and deep spiritual roots— was displaced by communism in China. Today, only the New York–based Shen Yun is keeping this precious heritage alive on stage. And it's an experience that will take your breath away.
About Shen Yun
Based in New York, Shen Yun is entirely non-profit. Its artists have come from around the world to revive this glorious heritage. Since its establishment in 2006, the company has become a global sensation, performing for over a million audience members around the world.
Performance Timing: Act I - 60 min.; Intermission - 15 min.; Act II - 60 min.