Great Performances at Mason
Small Island Big Song
Saturday
,
Apr.
20
at
8 p.m.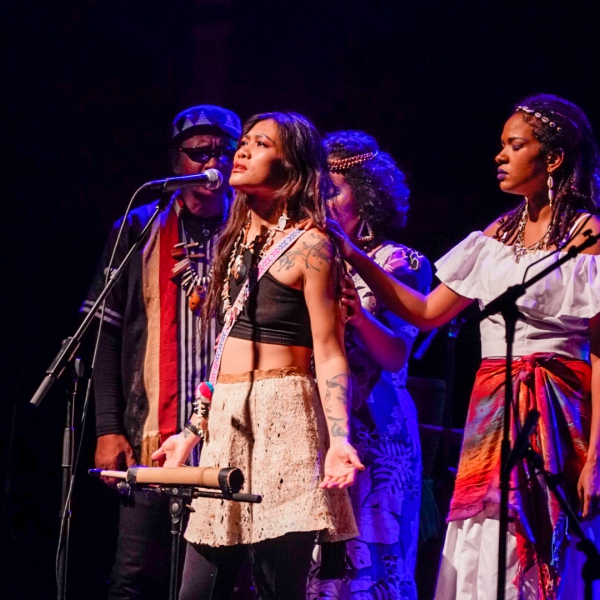 Mason Artist-in-Residence
Right before Earth Day, join Small Island Big Song for a moving concert experience combining music, spoken word, and stunning projections to showcase unique oceanic grooves and soulful island ballads, while shining a light on the devastating effects of global warming on these islands. Framed against panoramic visuals, more than 100 indigenous artists are represented to highlight a shared seafaring ancestry with interconnected musical traditions. These unique lineages mixed with their diverse contemporary styles—roots-reggae, beats, grunge, R&B, folk and spoken-word—establish a contemporary musical dialogue between cultures as far afield as Madagascar, Aotearoa, Taiwan, Mauritius, Marshall Islands, Papua New Guinea, Tahiti, and Rapa Nui. Billboard ASIA describes Small Island Big Song as "one coherent jaw-dropping piece that is likely the first time these traditional instruments have been mixed together... The result is breathtaking."
Small Island Big Song is the brainchild of Australian filmmaker and music producer Tim Cole and Taiwanese film producer BaoBao Chen, who traveled to 16 island nations over four years to capture unique sounds and cinematic sights while working with local artists, elders, community groups, and grassroots musicians. As a Mason Artist-in-Residence, Small Island Big Song will also work with the community through classes and workshops during the week surrounding the performance, to create awareness and inspire the participants to take action about the climate changes on the artists' islands.
This performance is appropriate for all ages.
Tickets: $48, $41, $29; half-price for youth through Grade 12
Run Time: 90 minutes, plus intermission
PERFORMANCE PROGRAM
The program for this performance will be available the week of the event.
View digital program.
BEFORE THE PERFORMANCE
A pre-performance discussion will take place in Monson Grand Tier, which is located on the third level of the Center for the Arts Lobby, 45 minutes prior to curtain.
FREE TICKETS FOR MASON STUDENTS
A limited quantity of free student tickets will be available for each event.
Learn more.
This engagement of Small Island Big Song is made possible through the ArtsCONNECT program of Mid Atlantic Arts with support from the National Endowment for the Arts.
Small Island Big Song's Mason Artist-in-Residence activities are sponsored by Eloise Stinger.