Great Performances at Mason
The Acting Company: The Three Musketeers
Saturday
,
Jan.
28
at
8 p.m.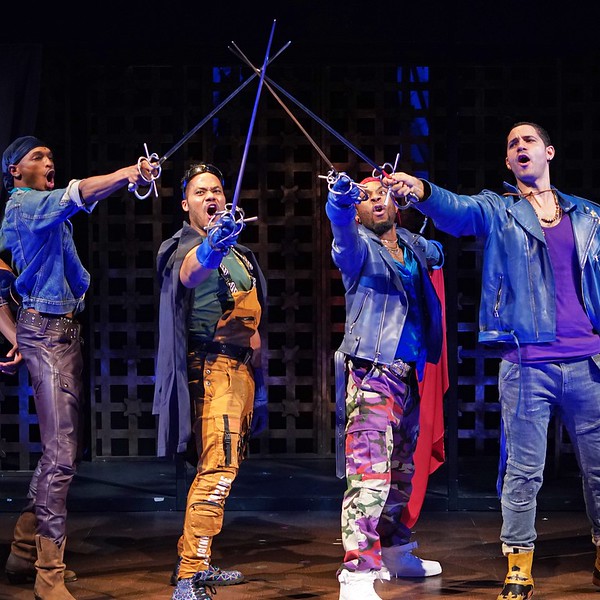 Written by Kirsten Childs
Adapted from the novel by Alexandre Dumas
Directed by Kent Gash 
"All for one and one for all. United we stand, divided we fall!" Escape into Alexandre Dumas's swashbuckling epicThe Three Musketeers, performed by The Acting Company. Full of charm, wit, and swordplay, this world-premiere adaptation by Kirsten Childs follows D'Artagnan, who joins up with a band of noble Musketeers on a mission to root out the corruption of Cardinal Richelieu's spies and assassins. A timeless tale with an inspirational reminder that courage, honesty, and passion can change the world. Childs's adaptation is commissioned by The Acting Company and draws inspiration from an astonishing secret—that Dumas' father, General Alex Dumas, was the highest-ranking person of Color in a Western military until our own time. Founded in 1972 with the first class of the Juilliard School of Drama, The Acting Company has given more than 400 actors—including Kevin Kline, Rainn Wilson, Patti LuPone, Jesse L. Martin, Harriet Harris, and Keith David—an artistic home at the start of their careers to hone their craft. Named "the major touring classical theater in the United States" by The New York Times, The Acting Company has been honored with numerous awards, including an Obie, Audelco, Los Angeles Critics Circle Award, and a special Tony Honor for Excellence in Theater.
Additional Creative Team:
Scenic Design by Ed Haynes Jr
Costume Design by Ann Hould-Ward
Lighting Design by Dawn Chiang
Sound Design by Lindsay Jones
Tickets: $50, $43, $30, half-price for youth through Grade 12
Run Time:  Approximately 2 hours and 10 minutes, with an intermission
BEFORE THE PERFORMANCE
A pre-performance discussion will take place in Monson Grand Tier, which is located on the third level of the Center for the Arts Lobby, 45 minutes prior to curtain.
FREE TICKETS FOR MASON STUDENTS
A limited quantity of free student tickets will be available for each event.
Learn more.