The Artist-Activist: Centering Black Voices with Bree Newsome
| | | |
| --- | --- | --- |
| When/Where | Tuesday, Oct 20, 2020 7:00pm | Virtual Event |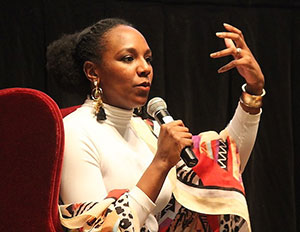 Join filmmaker, musician, speaker, and activist Bree Newsome for a conversation as part of The Artist-Activist: Centering Black Voices—a speaker series that provides an opportunity for Mason students, faculty, and staff, as well as the greater community, to engage in dialogue around creative process, activism, and racism. Newsome and student filmmaker and fellow activist Taj Kokayi (Mason Film and Video Studies Program BA, 2022) will conduct a live, interactive conversation about Newsome's activist work and how it has informed her filmmaking and storytelling and vice versa. Together they will explore what it means to be an activist in America today, as our country grapples with acts of racism, anti-Black rhetoric, and unjust killings. The evening will conclude with live questions from the participating audience.

The Artist-Activist: Centering Black Voices features nationally renowned artists speaking about the essential intersection between the creative sector and social justice movements. Using their artistic practice as a jumping off point, these speakers seek to ignite meaningful dialogue within our community, inspiring actionable tools for change. Curated by a panel of anti-racist Mason educators, the conversations are to be free and open to the public. Additional speakers will be announced at a later date.

FREE

This conversation will be streamed simultaneously on this webpage, Facebook and YouTube.

Registration for the event is not required, but if you reply here you will be sent a reminder with details for how to watch prior to the event.

To enable automated closed captioning for the Facebook video, please navigate to the bottom right of the video pane and click the "CC" button.

Bree Newsome is an artist who drew national attention in 2015 when she climbed the flagpole in front of the South Carolina Capitol building and lowered the Confederate battle flag. The flag was originally raised in 1961 as a statement of opposition to the Civil Rights Movement and lunch-counter sit-ins occurring at the time. The massacre of nine black parishioners by a white supremacist at Emanuel AME Zion Church in Charleston reignited controversy over South Carolina's flag. Newsome's act of defiance against a symbol of hate has been memorialized in photographs and artwork and has become a symbol of resistance and the empowerment of women. Her dedication to her community work has not lessened her interest in film or music. In 2016 she wrote, produced, and directed the performance piece Rise Up and Go as part of The Monticello Summit, a four-day public summit on the legacy of slavery and freedom in America held at the site of Thomas Jefferson's former plantation.

The Artist-Activist: Centering Black Voices is produced by the College of Visual and Performing Arts, as a part of the Arts in Context series, and in collaboration with the Visiting Filmmakers Series and Student Involvement.