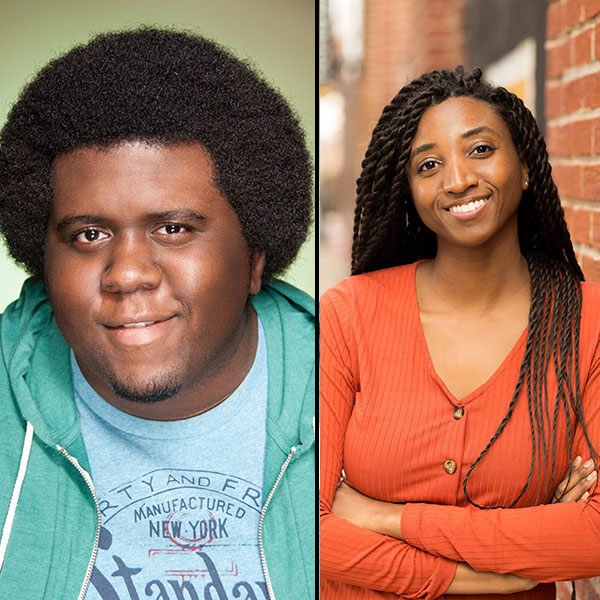 Mason Arts at Home
The Artist-Activist: Centering Black Voices
Tuesday, Apr 20, 2021 7:00pm

Virtual Event
The Artist Activist: Centering Black Voices speaker series returns for the last event of the semester with artists Maurice Cherry and Lex Brown. Two individuals from incredibly different spectrums of art, Cherry is a designer and podcaster and Brown is an avant garde visual and performance artist, but both work to push the boundaries of what "art" means. Moderated by School of Art Faculty member Rachel Debuque, this conversation will center around how these divergent disciplines speak to one another, examining how these two prominent artists break the rules in their own unique ways. 
Cherry is a creative strategist, designer, and digital creator best known for his podcast Revision Path where he interviews Black creatives from around the world. In 2019, Revision Path became the first podcast to be added as a permanent exhibition at the Smithsonian's National Museum of African American History and Culture. Cherry was the recipient of the Steven Heller Prize for Cultural Commentary and was named as one of GDUSA's "People to Watch" in 2018. Read Maurice Cherry's full biography.
Working as an artist, musician, and writer, known for her video and performance art, Brown has captivated audiences around the U.S. Her work is, "informed by the omnipresence of data, information, media, and how images condition our bodies and language." She works to tear down internalized racism and sexism within herself and audience. She also teaches at Harvard and Princeton alongside her multifaceted work in these artistic fields. Read Lex Brown's full biography.
The Artist-Activist: Centering Black Voices features nationally renowned artists speaking about the essential intersection between the creative sector and social justice movements. Using their artistic practice as a jumping off point, these speakers seek to ignite meaningful dialogue within our community, inspiring actionable tools for change. Curated by a panel of anti-racist Mason educators, the conversations are to be free and open to the public. 
FREE
Image, from left to right: Maurice Cherry and Lex Brown
How to Watch
This conversation will be available to watch beginning
Tuesday, April 20
at 7 p.m. ET simultaneously on this webpage,
the Center for the Arts Facebook page
and
YouTube channel
.
This event will be available to watch until Monday, June 21 at 5 p.m.


Registration for the event is not required, but if you register you will be sent a reminder with details for how to watch prior to the event.
Register now.