Great Performances at Mason
The Peking Acrobats
Sunday
,
Mar.
10
at
1 p.m.
Sunday
,
Mar.
10
at
5 p.m.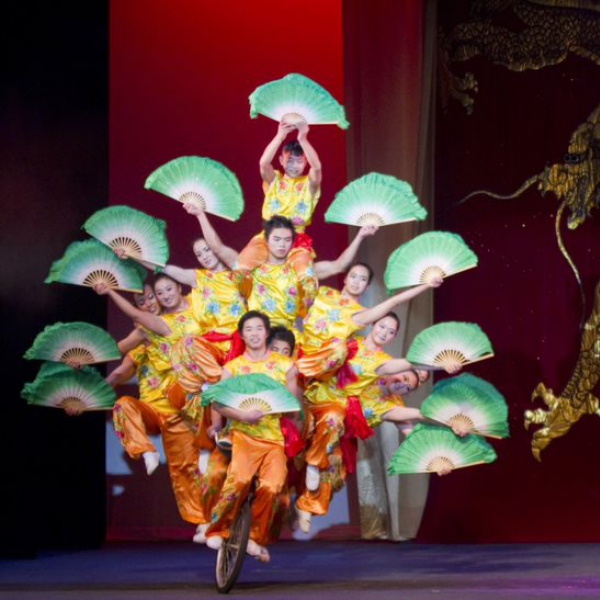 For more than 30 years, The Peking Acrobats have revitalized Chinese acrobatics, fusing ancient athletic discipline with modern special effects to create a kaleidoscopic marvel for all ages. These world-class gymnasts, jugglers, cyclists, and tumblers provide a gravity-defying spectacle with amazing displays of contortion, flexibility, and control. Accompanied by live musicians who skillfully play traditional Chinese instruments, The Peking Acrobats execute daring maneuvers and display their technical prowess at trick cycling, precision tumbling, juggling, somersaulting, and gymnastics. The Peking Acrobats will leave you and the whole family breathless with a performance full of exuberant pageantry and amazing feats that need to be seen to be believed. "The Peking Acrobats are pushing the envelope of human possibility, combining agility and grace in remarkable feats of pure artistry" (New York Post).
This performance is appropriate for all ages. 
Tickets: $55, $47, $33; half-price for youth through Grade 12
PERFORMANCE PROGRAM
The program for this performance will be available the week of the event.
View digital program.
BEFORE THE PERFORMANCE
A pre-performance discussion will take place in Monson Grand Tier, which is located on the third level of the Center for the Arts Lobby, 45 minutes prior to curtain.
FREE TICKETS FOR MASON STUDENTS
A limited quantity of free student tickets will be available for each event.
Learn more.