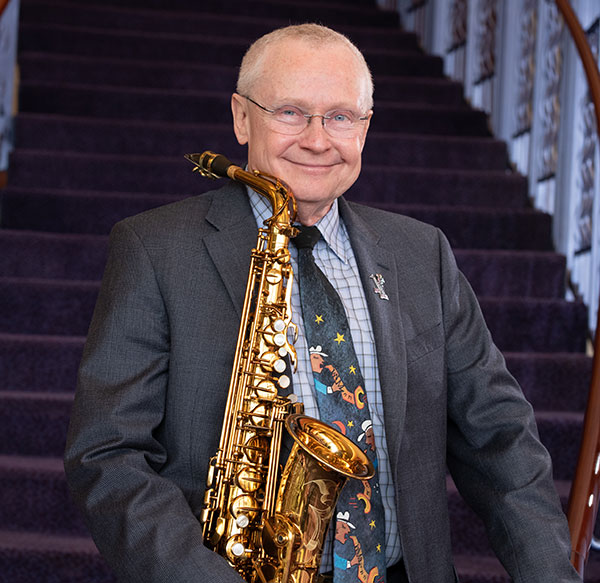 This performance will take place on Mason Pond Lawn.
Featuring Mason Jazz Faculty
The talented Mason Jazz Faculty salutes tenor saxophonist Sonny Rollins, long heralded as "the greatest living jazz improviser," who continues to inspire generations of musicians. Rollins began his career as a sideman at age 18 in 1949 and played his last live shows in 2012. In a career that spanned seven decades, Rollins recorded more than 60 albums, featuring works that have become jazz standards such as "St. Thomas," "Oleo," "Airegin," and countless others. To commemorate the Saxophone Colossus' ninetieth birthday, the Mason Jazz Faculty from the Reva and Sid Dewberry Family School of Music will perform repertoire from a portfolio coauthored by Mr. Rollins and Professor Jim Carroll. The selections represent Rollins' deep commitment to social justice and environmental conscience. The ensemble includes Darden Purcell, voice; Victor Provost, pan; Xavier Perez, tenor; Jim Carroll, alto; Aaron Eckert, trombone; Graham Breedlove, trumpet; Wade Beach, piano; Glenn Dewey, bass; Kevin McDonald, drums; and Shawn Purcell, guitar. Join these musicians for a rousing tribute to one of jazz's true greats on the Center for the Arts' outdoor performance space, Mason Pond Lawn.

$25 adult, $12.50 Youth through Grade 12


Tribute to Sonny Rollins program
How to Watch
Enjoy this performance in your own seating area, physically distanced from other audience members.
Free Tickets for Mason Students
A limited quantity of free student tickets will be available for each event. Eligible Mason students should log onto
Mason360
to claim their tickets beginning two Tuesdays prior to the event.
All performances including the program, artists and dates are subject to change.