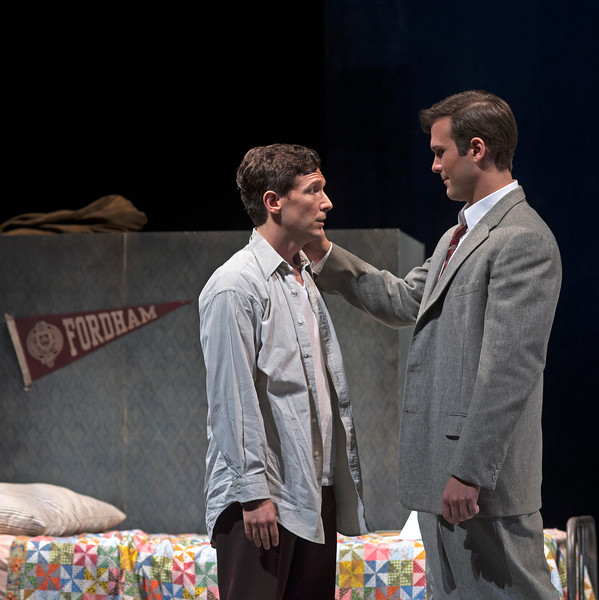 Great Performances at Mason
Virginia Opera: Fellow Travelers
Saturday, Feb 04, 2023 8:00pm
Sunday, Feb 05, 2023 2:00pm

Composed by Gregory Spears
Libretto by Greg Pierce
In a commitment to share contemporary opera experiences with its audiences, Virginia Opera presents Fellow Travelers by New York-based composer Gregory Spears and librettist Greg Pierce. Set at the dawn of the Cold War, Fellow Travelers follows the blazingly idealistic Timothy Laughlin as he navigates through the intrigues of Washington, D.C. during the "Red Scare" of the 1950s. Fresh out of college and working in a senator's office, Timothy passionately joins the fight against communism, but his values are put to the test when falls in love with Hawkins Fuller, a handsome State Department official. The two men become tangled in a web of fear and deceit during the "Lavender Scare," a witch hunt and mass firings of gay people in the United States government that paralleled McCarthyism. After its world premiere in 2016 at Cincinnati Opera, Fellow Travelers has generated a buzz and wowed critics wherever it is performed. "A near-perfect example of fast-flowing musical drama" (The New York Times). "One of the most accomplished New American Operas" (Chicago Tribune). Sung in English with English surtitles. 
Prices: $110, $70, $40, half-price for youth through Grade 12
Run Time: 2 hours 30 minutes, including intermission
Before the Performance
A pre-performance discussion will take place in Monson Grand Tier, which is located on the third level of the Center for the Arts Lobby, 45 minutes prior to curtain.
Free Tickets for Mason Students
A limited quantity of free student tickets will be available for each event.
Learn more
.
Photo credit: Philip Groshong/Cincinnati Opera